Instruction is memorable when teachers encourage students to make connections to known letters and words (e.g., Kathleen's K, g for go, m for mom) and use these connections to support their reading and writing.
With our new preschool going on at home, I wanted to continue what Coleman's teachers were doing at school and focusing on a specific letter. By choosing this route, it keeps things easy, consistent, and focused for me. All of our activities will focus that day(s) on the specific letter. Even though he had already done the letter C at school, since it is the first letter of Coleman's name, I wanted to start there. C is a fairly easy letter to start with because so many things start with the letter c!
Letter Recognition Activity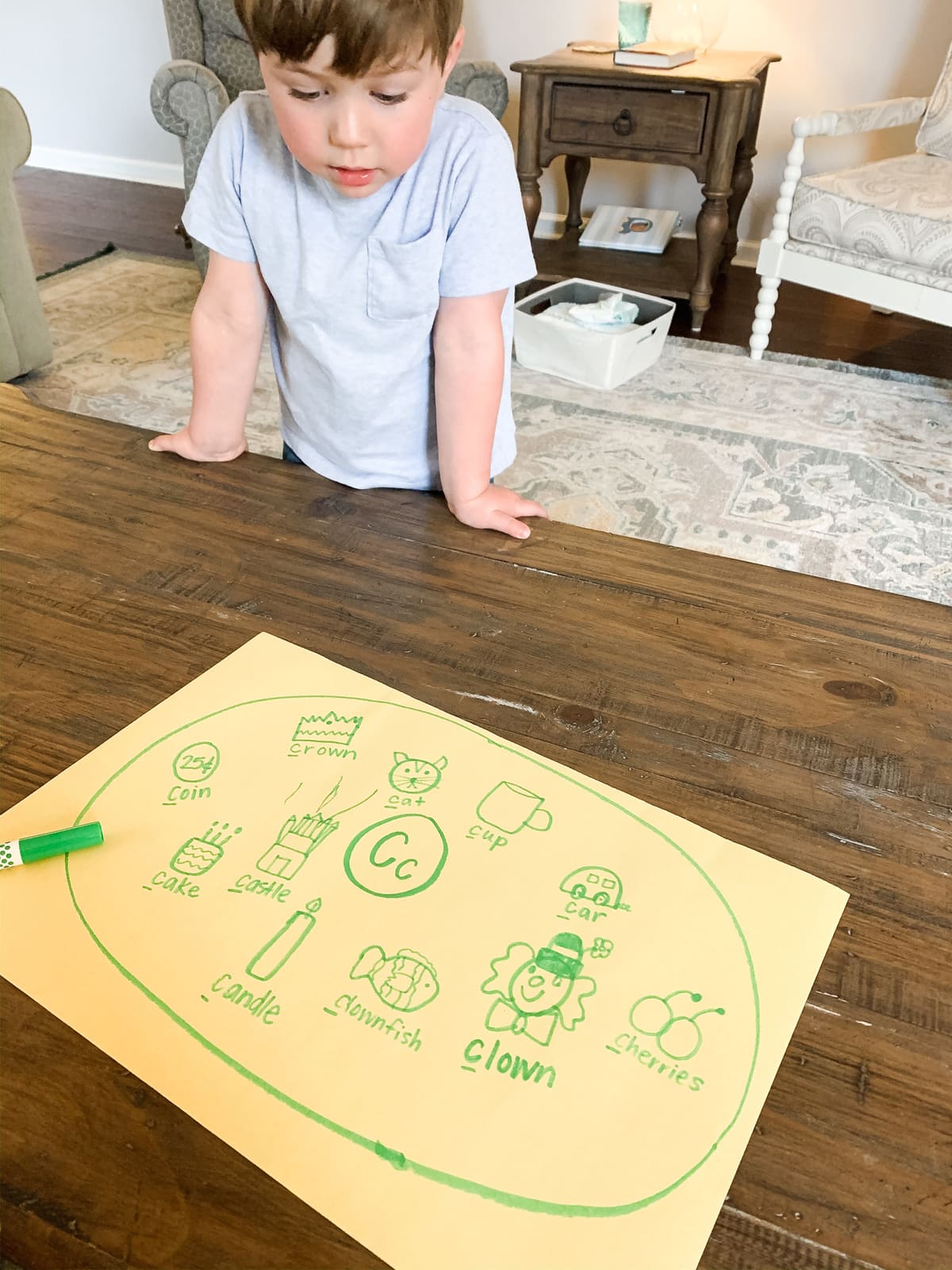 Confetti C – We made a "Confetti C" by gluing colored construction paper to a giant letter C that I cut out before we started.
Letter Writing Practice – We used sentence strips and markers to practice writing the letter C
Have Fun Teaching Letter C Song on YouTube- they have videos for the alphabet, each letter, the seasons, and more!
Starfall Website Letter C Video
Letter C Song from ABC Mouse on You Tube
Thinking Map – We made a circle Map anchor chart together. Coleman thought of the items and then I wrote the words (and attempted a drawing to go with it).
Boogie Board Tablet Writing – We used this boogie board to practice writing the letter C.
Letter Search and Circle – Write letters all over and circle the letter C.
Activities with Things that Begin with C
Car Tracks – I think I first saw this activity on Days with Gray but decided today was the day to try it out. We used washable paint, painted the tires and raced on the butcher paper! I added some sound effects from a Nascar race on YouTube. Anything to make it fun!
Car Wash – After the cars were good and dirty, we headed to the bath tub for a little car wash/mid afternoon bath.
Show & Share – Coleman went on a scavenger hunt throughout the house to grab any thing he could find that begins with the letter C.  After his hunt, his mom, dad, and sister were his "classmates" and he shared with us that he found candy, cheerios, a can, a cape, and some cups.
Car Parking Math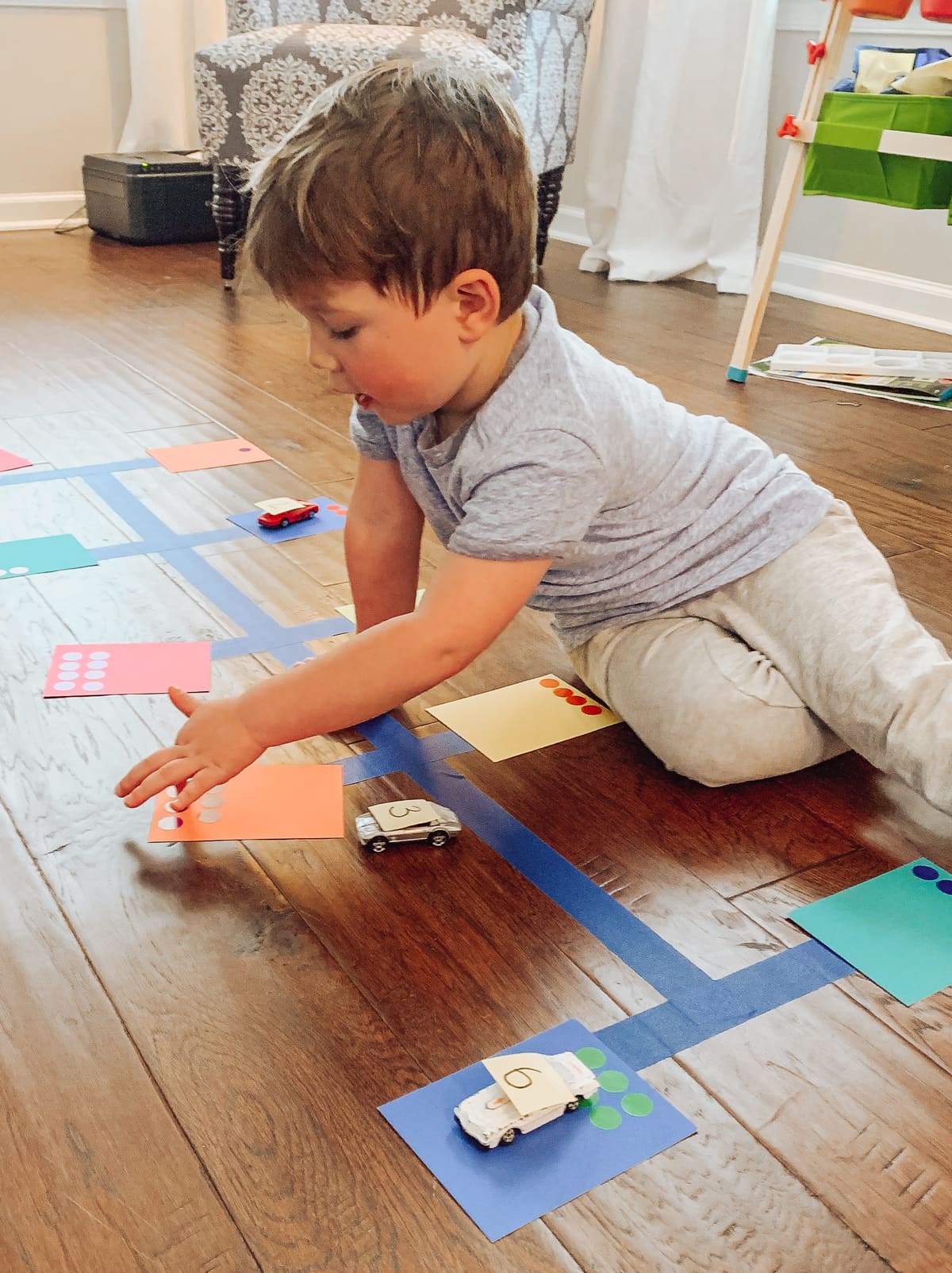 One to One Correspondence is a huge skill that he is working on right now. I saw an idea on Jana Kramer's instagram that worked great! I used old notecards and put dot stickers on each card for each number. Then I wrote the number on the back of the card. Next, I labeled each car (1-10) and made a little driveway. Coleman had to "park" each car in the garage with the correct number of dot stickers to match the number. After he counted the stickers, he flipped the card over to check to make sure the number on the car matched the "garage" number.
Supplies for C Activities
This post contains Amazon affiliate links and I may earn from qualifying purchases.
Boogie Board Tablet // Construction Paper // Crayola Markers // Washable Paint // Matchbox Cars // Dot Stickers // Butcher Paper // Painters Tape // Notecards 
Food with C
We had Cheerios for breakfast, Chick-fil-A for lunch, cucumbers for a snack and Chicken Stir Fry for dinner! We made cupcakes for a "learning experience" & dessert!
Books with C
We read I Spy Everything for all the letters before we started our "Confetti C" to give Coleman some context around the letter C (beyond that it's in his name). At bedtime, we read Crazy Hair Day. Here are some other great books to help with the letter C or any alphabet activities with your kids.

I Spy Everything//Crazy Hair Day//The Very Hungry Caterpillar//Mighty, Mighty Construction Site//
Chicka Chicka Boom Boom//Caps for Sale//Counting Cars// C is for Colorado