"Monster trucks can jump over school buses." – Coleman, Age 3
What is going on outside our home is terrible and we pray that there is a slow down on the situation very soon but we are choosing to find the silver lining in our time at home. I've been more intentional about the learning opportunities I provide my kids. We're pretty good about reading and doing a few literacy activities here and there but we are on the go a lot. Driving to preschool, swim lessons, play dates, dinner out, etc. is really time consuming. I've enjoyed the last few days with our entire family home. Don't get me wrong, there has been a few (ok..a lot) of meltdowns from Mom, Dad, Coleman and Caroline in the past 48 hours. Coleman is slowly getting used to Nick being home but not being able to talk to him or understand why he can't play with him has been tough.  The first day or two was an adjustment but once I changed my mindset and focused on the good that can come from our quality time, I'm trying to embrace our new norm.
Monster Truck Facts
We started our reading time reading More Monster Trucks. Before I started reading I told Coleman that we would stop every once in awhile and write down anything that was really cool that we learned while we read. After each page, I asked him what fact he learned and we wrote it down on large sticky notes. We stuck the facts to a monster truck just to make it fun! After about 3 facts, Coleman decided he was going to start writing the facts. He "wrote" them and then I wrote the translated sentence below. I had this vision of what I wanted the sticky note facts to look like and that didn't involve his three year old scribble BUT I had to let that go and let HIM GO! It was so fun to watch him take ownership in such a short period of time!
READ a nonfiction book that interests your reader.
WRITE down any "cool" or "interesting" facts on large sticky notes.
PLAY by creating a track to solidify the learning.
TALK to your child about what they are doing. This helps them process what they are doing, use new vocabulary words, and lets them take ownership for their learning!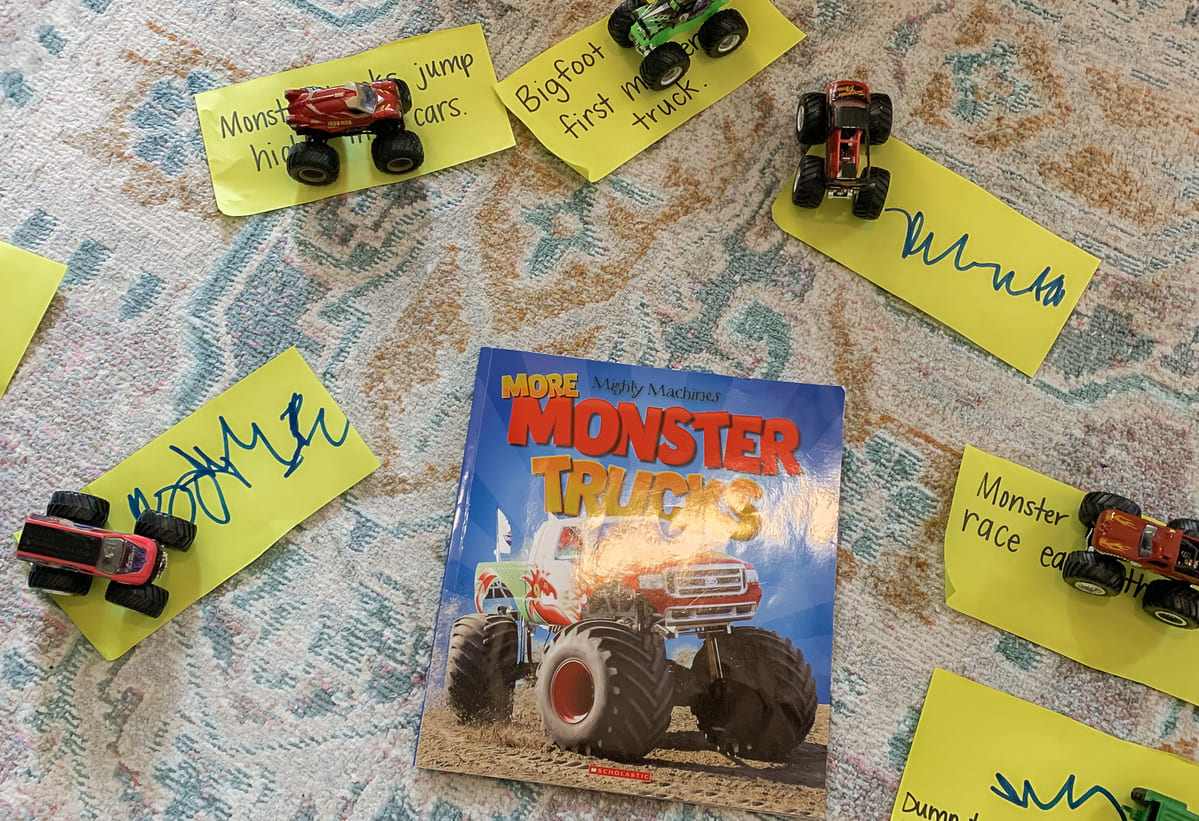 Monster Truck Course
After we finished reading and writing our facts, it was time to play! Coleman used the pictures to help him create the course. He had so much fun smashing/crashing/racing his monster trucks on his homemade course. While he played, he talked about the different things he learned like how a monster truck pops a wheelie. We used Magnatiles, old Amazon boxes, racing track tape and some felt to create the course.
Here are the supplies we used:
This post contains Amazon affiliate links and I may earn from qualifying purchases.
Hot Wheels Monster Trucks//Race Track Tape//More Monster Trucks Book//Large Sticky Notes