"Even the smallest one can change the world." – Peter Rabbit
Easter is my favorite holiday for many reasons – the pastel colors, the warm air signaling spring is here, quality time with family and a visit from our favorite Easter Bunny. Since school is out for the long haul, I'm using this years Easter Bunny basket as a way to gift the kids some books and some other items that we can use from now until….September?!? Here are our favorite books for Easter and some little items that can be used to help with letter recognition, name building, and developing early literacy and language skills. Don't worry…there will be plenty of chocolate bunnies and Starburst Jelly Beans surrounding their books and ABC puzzles.
This post contains Amazon affiliate links and I may earn from qualifying purchases.
Easter Books for Babies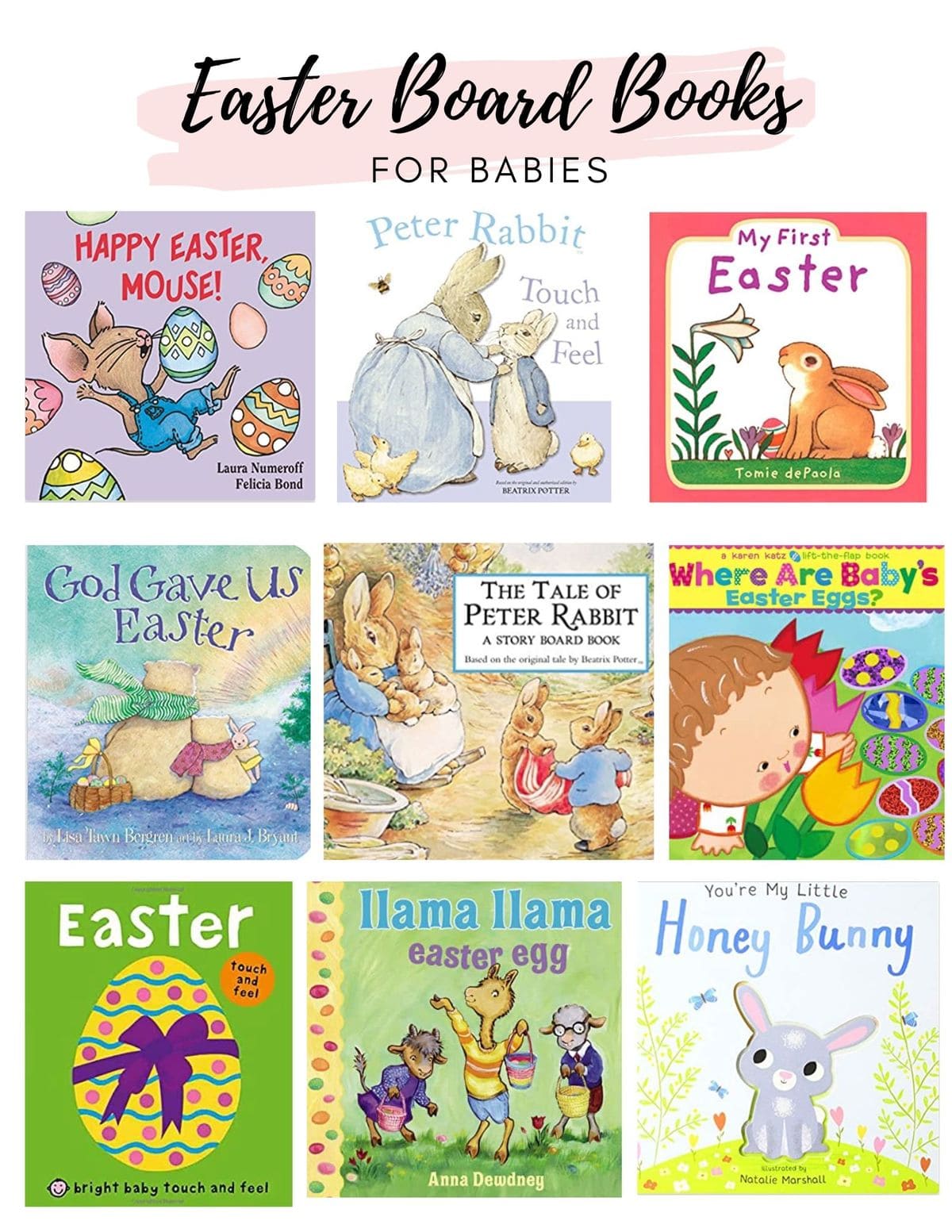 Happy Easter, Mouse // Peter Rabbit Touch and Feel // My First Easter
God Gave Us Easter // The Tale of Peter Rabbit // Where Are Baby's Easter Eggs?
Easter Touch & Feel // Llama Llama Easter Egg // You're My Little Honey Bunny
Easter Read Alouds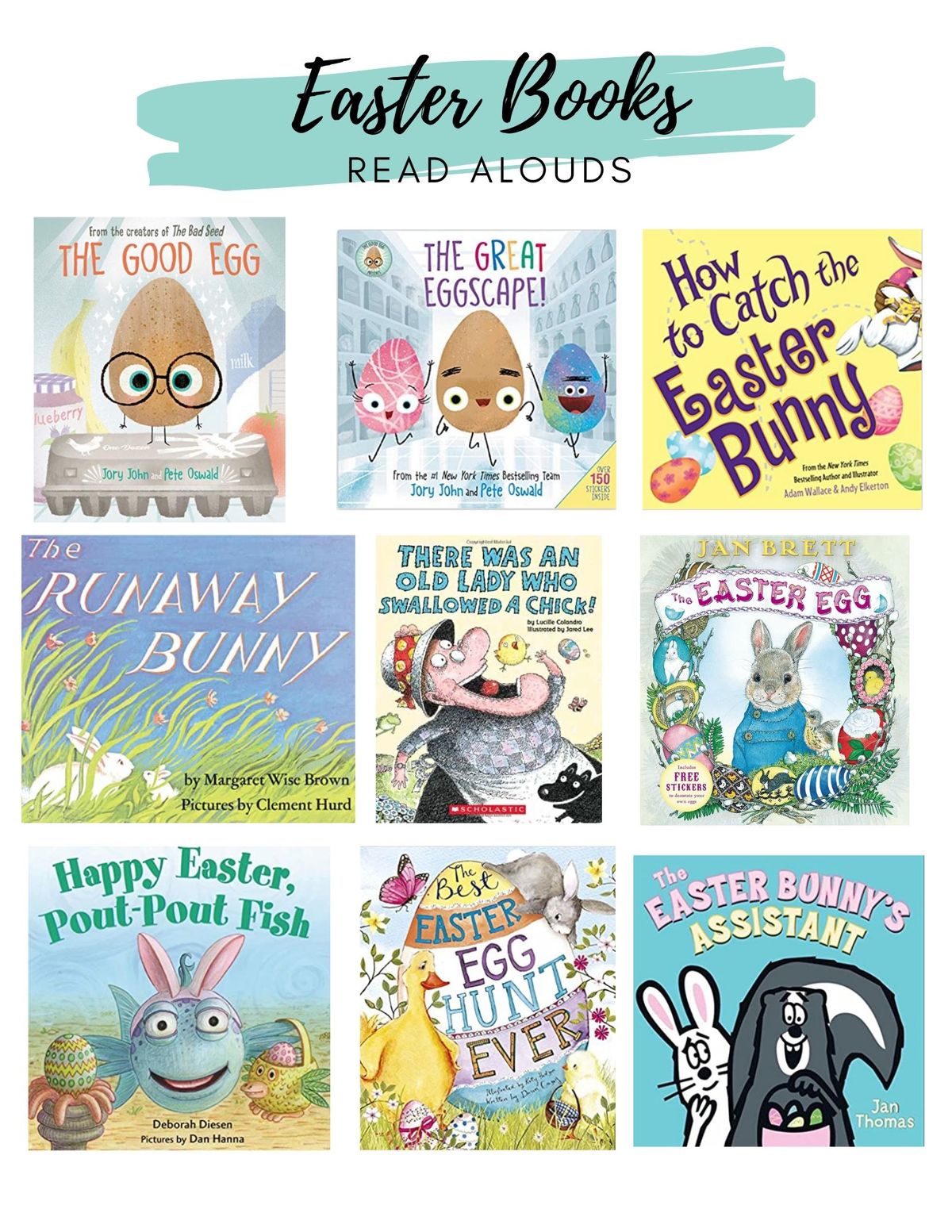 The Good Egg // The Great Eggscape // How To Catch The Easter Bunny
Runaway Bunny // There Was an Old Lady Who Swallowed a Chick // The Easter Egg
Happy Easter Pout Pout Fish // The Best Easter Egg Hunt Ever // The Easter Bunny's Assistant
Children's Bibles/Devotionals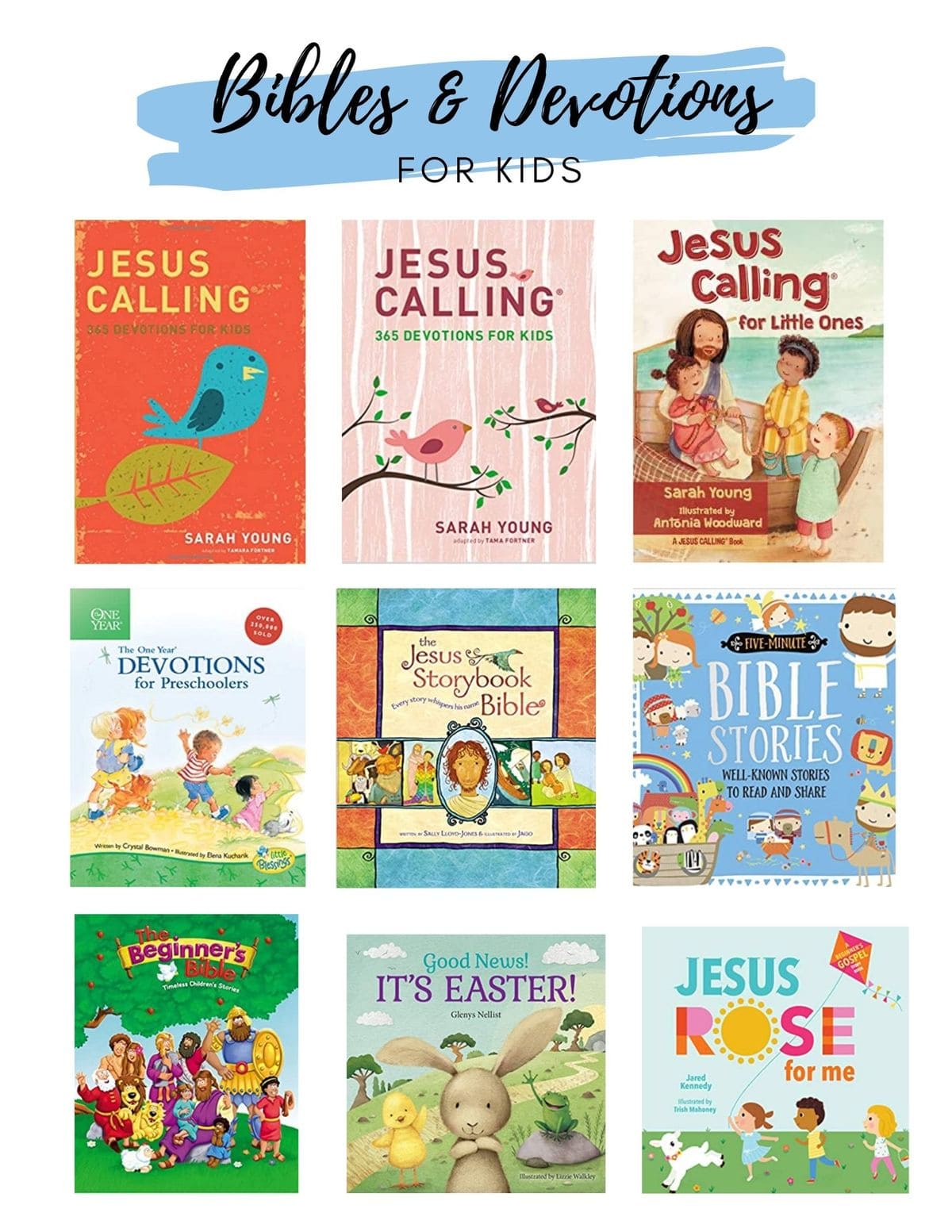 Jesus Calling: 365 Devotions for Kids // Jesus Calling: 365 Devotions for Kids (Girls Edition)  // Jesus Calling For Little Ones (Preschoolers)
The One Year Devotions for Preschoolers // The Jesus Storybook Bible // Five-Minute Bible Stories 
The Beginner's Bible: Timeless Children's Stories // Good News! It's Easter! // Jesus Rose for Me: The True Story of Easter
Literacy Toy Ideas for the Basket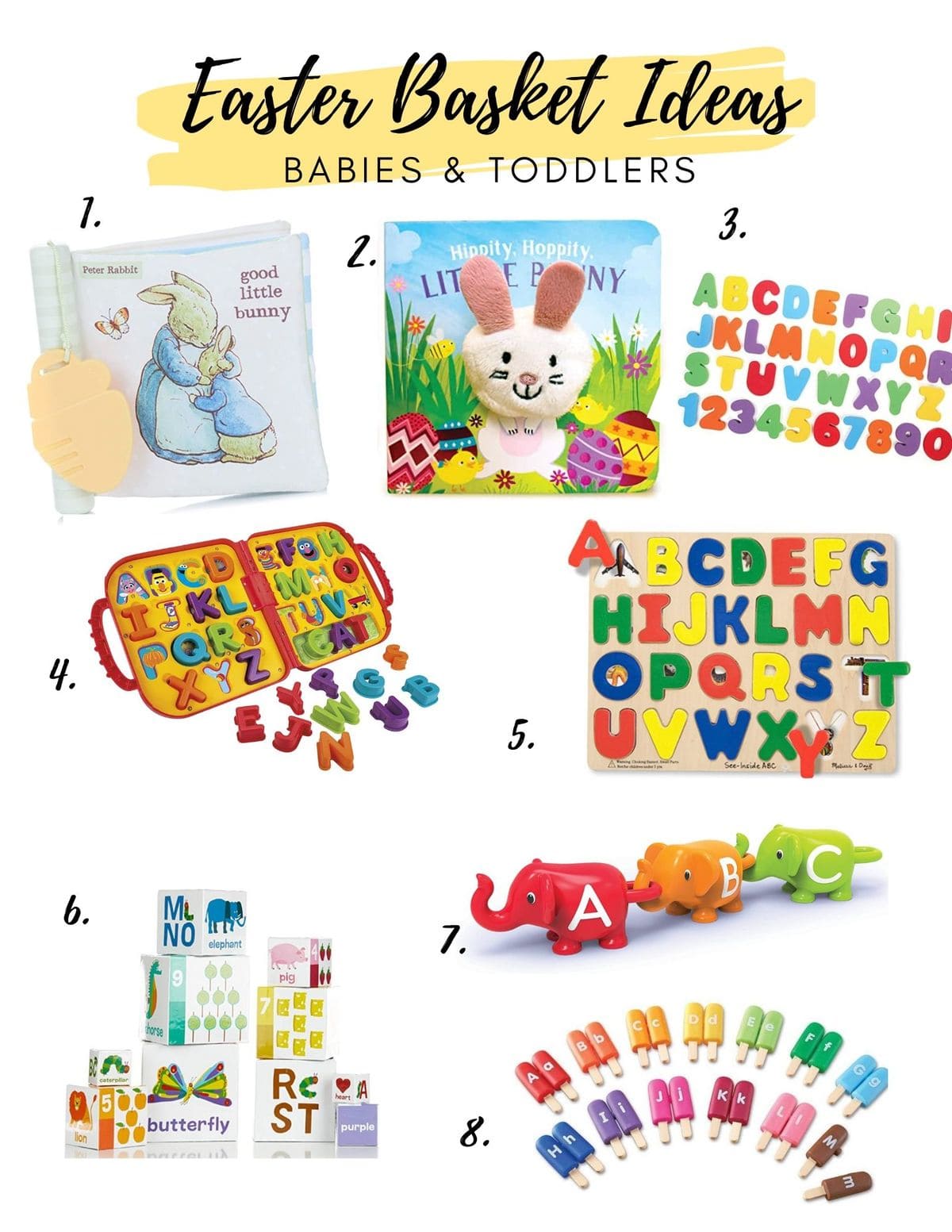 1. Beatrix Potter Peter Rabbit Soft Teether Book – great for teething babies to start learning how to turn pages in a book
2. Hippity, Hoppity, Little Bunny (Finger Puppet Book) – keeps the babies engaged in the book with the adorable finger puppet
3. Bath Numbers & Letters – foam letters are great to use in the tub or in a sensory bin
4. Sesame Street Elmo's On the Go Letters – use your child's favorite Sesame Street characters to help teach letter recognition
5. Mellissa & Doug ABC Puzzle – great fine motor skill practice while exposing your toddler to the ABCs!
6. The Very Hungry Caterpillar Nesting and Stacking Blocks – nesting blocks teach alphabet, vocabulary, and number recognition
7. Snap & Learn ABC Elephants – fun way to build, practice fine motor skills and have fun while exposing your toddler to the ABCs
8. Smart Snacks Matching Alphabet Pops  – fun way to have your child match capital and lowercase letters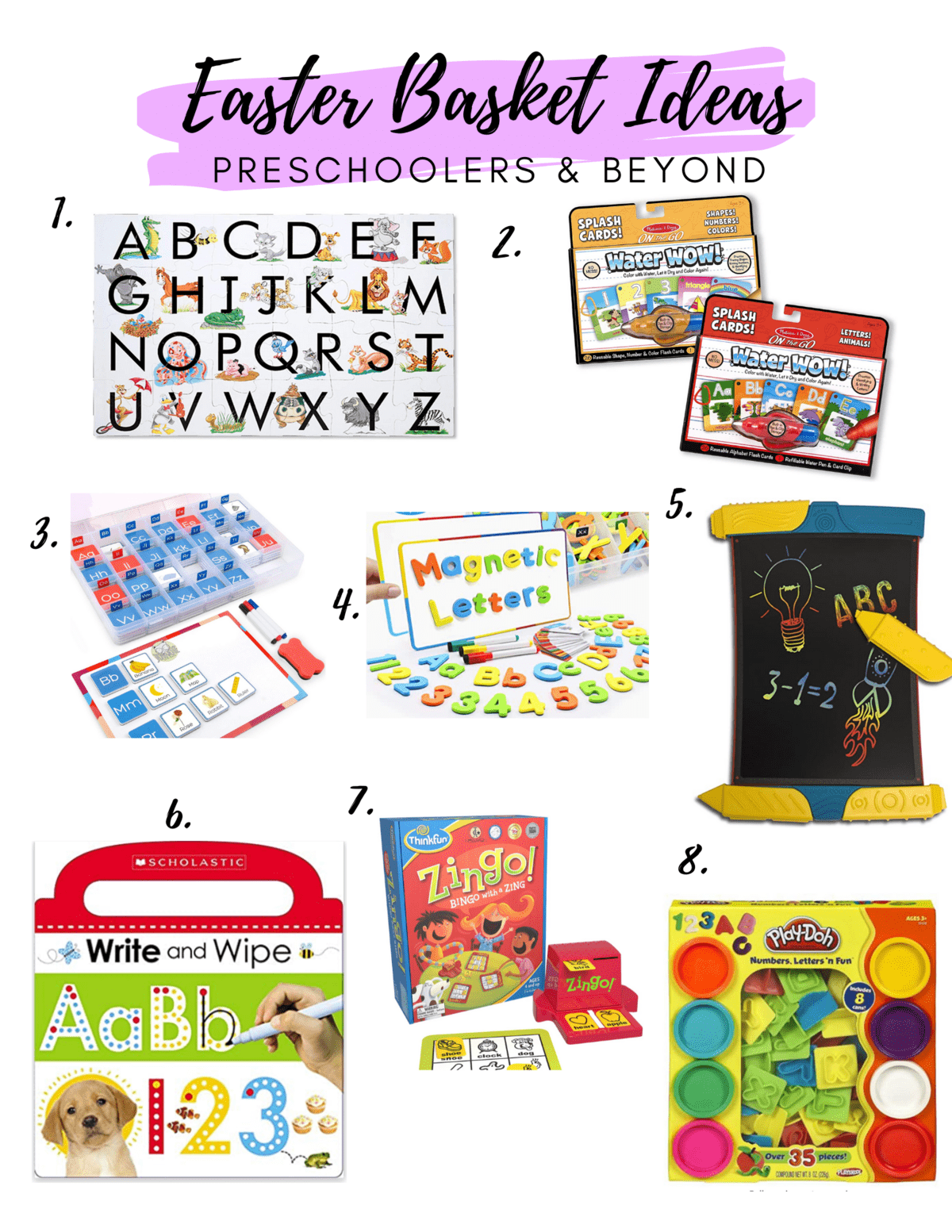 1. Melissa & Doug ABC Floor Puzzle – My almost 4 year old has become obsessed with giant floor puzzles! This will be in his basket this year!
2. Melissa & Doug Water WOW Splash Cards – These are perfect for your preschooler to paint mess free while learning letters (and numbers). We use these when I need a moment to do something without my preschooler, in the car, in a restaurant, anywhere!
3. Magnetic Objects and Letters Sorting Tiles with Magnet Board – These put a visual with the letter sound! Great for practicing initial sounds with real vocabulary pictures.
4. Magnetic Letters and Number – these are great to use on the fridge, a cookie sheet, or anything magnetic!
5. Boogie Board Scribble and Write Tablet – We LOVE this to practice writing letters, drawing pictures and being creative at home, in the car, waiting at the doctors, etc. I keep one in my diaper bag at all times!
6. ABC Write & Wipe Book – I'm not a huge fan of worksheet type activities but this one comes in handy! Coleman loves to do his "homework" and practice writing his letters with this cute dry erase book!
7. ZINGO! – This has become an instant family favorite! This helps identify matching objects and words. Fun vocabulary and sight word practice!
8. Playdough Letter Stamps – What kid doesn't love play dough! We play dough to form letters and we also use these stamps to make the letters.