"When you give a child the chance to learn through play, you're giving them the chance to be in the driver's seat and to be at the wheel of their learning." – Susie Allison, Busy Toddler Blog
Well after two weeks of "survival" between our stay at home orders and getting ready to move, I was finally feeling up to actually preparing some learning activities for the kids this week. We've watched enough Veggie Tales, Onward, Power Rangers and Paw Patrol to last the rest of the year. We've also had a lot of fun playing outside, taking walks as a family, and relaxing! Now that our self imposed "Spring Break 2020" is over, we are back to some sort of routine that includes learning, reading, playing and conversations! Our first "theme" is based on one of Coleman's favorite topics, trucks and construction!
WHY READ & PLAY?
One of the most powerful ways that children develop literacy and language is through uninterrupted play. For years, researchers have believed and proven that children learn and remember best through hands-on experiences. One of my favorite things to do (I loved this as a teacher, too) is to pair books with play. By pairing books with play, children have a model, a spring board for imagination and it helps them learn the vocabulary associated with the theme or topic they are learning (playing with, reading about and talking about).
Ways to Incorporate Books with Play
Read the books and then encourage independent play! This morning Coleman and I read (and reread some favorites) before he played in his Construction Sensory Bin for OVER AN HOUR. This never happens. During TV time he asked to play with it again. I'm officially sold on the sensory bin hype! Authentic and purposeful activities are what will lead to learning!
SETTING – Build the setting of the story
NEW ENDING – Create a new ending to the story
ILLUSTRATION INSPIRATION – We used a page from Little Excavator to inspire building a wall today. Using the illustrations to help spark creativity is a great way to get started!
NEW CHARACTER – Create a new character
SENSORY BINS – Busy Toddler has great sensory bin ideas. I can't wait to incorporate more for both Coleman & Caroline. The construction bin was a hit today! Later this week we are going to do a "beach" bin with beach books since we are missing the beach really badly this time of year!
PLAY DOUGH KITS – Allison at Magical Momdom has the best play dough kits! We've been using these since she started creating them over a year ago. We love the dinosaur kit, fireman kit and the golf mini!
DRAMATIC PLAY – I love to dress up in theme/costume and I'm pretty sure I've passed that gene to Coleman. We don't have a construction outfit but I did think about running to Target to get one this morning. Dramatic Play allows children to use their imagination and work on those language and vocabulary skills!
BOOK RECIPES – Making a snack that goes with the theme or book you are reading. Book Nerd Mommy has some great ideas that pair yummy snacks with great books!
Below Coleman uses a scene from Little Excavator to reenact using his sensory bin.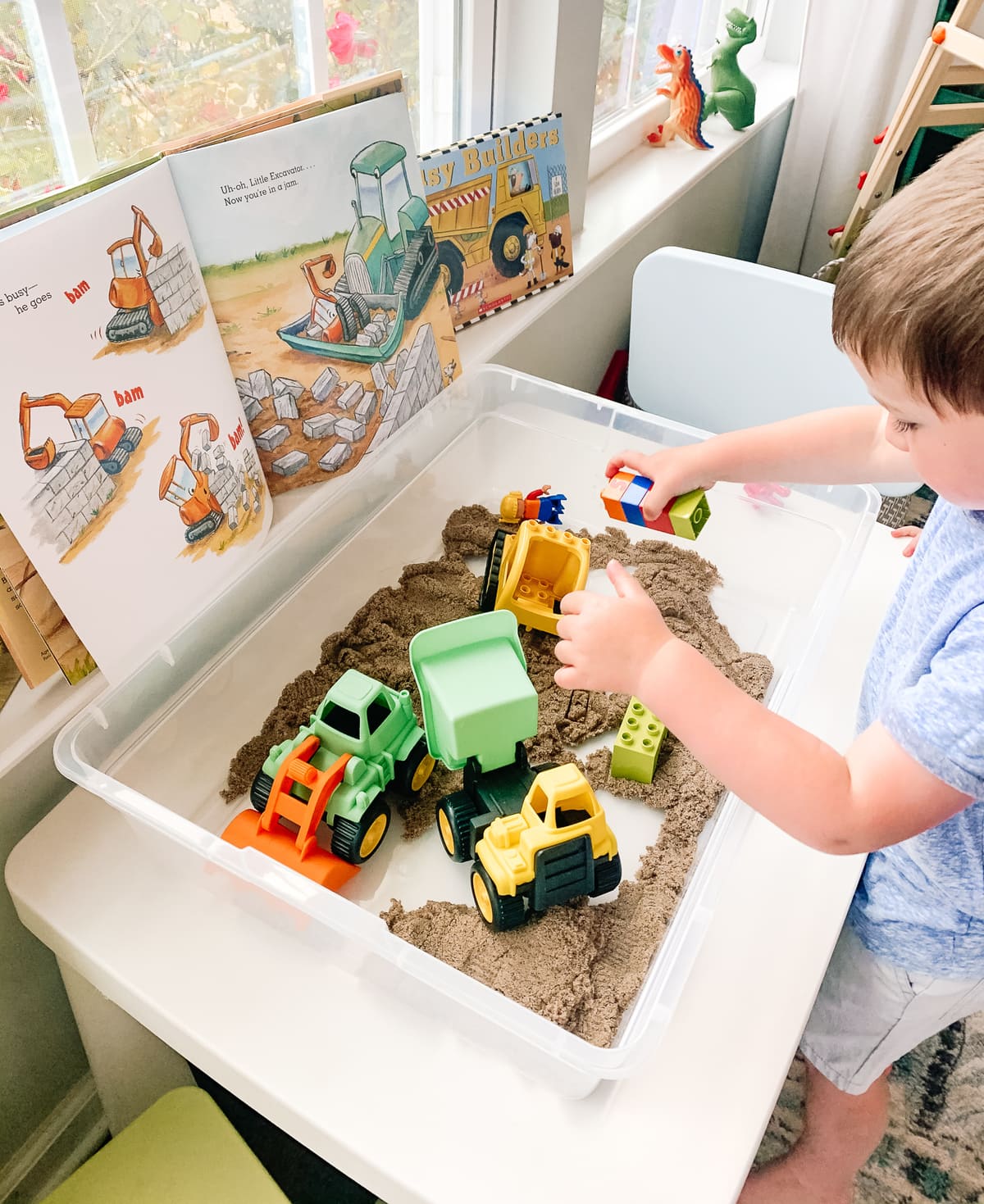 Construction Books
Here are the books we used for our construction theme play. Since this was the first sensory bin I've used with Coleman I wanted to start with something he already had prior knowledge of. We've done a lot of play dough and dramatic play so I thought the sensory bin would be a fun change of pace. We've read a lot of the construction books before so I pulled those out so he could use the illustrations to help him play. I gave him some fiction and nonfiction books to make sure he has exposure to both types of books. As Coleman is getting older and more curious, he's gravitating toward nonfiction so when the library opens up again, I'm planning on grabbing some nonfiction truck books for him.
My Best Pop-up Construction Site Book 
Mighty, Mighty Construction Site
Hello World! Construction Site Board Book
The Construction Alphabet Book 
Construction Sites – Life & Look Book
Pin this to save for later!