When teaching my toddler and preschoolers anything, I ALWAYS teach it to them through books, play and conversation. I'll breakdown this post with book suggestions to use when teaching colors, play ideas, and finally conversation starters and talking points you can use with your toddler when teaching them colors.
Teaching colors is important because it helps children identify items and use descriptive words that build their language skills. 
5 Tips for Teaching Colors
START WITH PRIMARY COLORS – Teach RED, YELLOW and BLUE then move to secondary (orange, green, violet)
START EARLY – Children develop their receptive language skills first (they can understand what you are saying before they can speak).  For teaching colors, this means toddlers can recognize and match colors, first. Then they are able to choose colors when you ask (Can you hand me the block that is red?) Then finally, they are able to say the color.
NAME THE NOUN FIRST AND THEN THE COLOR. When teaching colors, name the noun first and then the color. The leaf is green. A study at Sanford University found that when you name the noun first and then the color, it made a significant difference in the child's ability to learn the colors. 
USE CONTRASTING COLORS – When doing a sort or teaching colors, use contrasting colors. This helps children with visual discrimination. Blue/Purple are very similar colors so that may confuse children.
USE THE SAME OBJECT – when using the same object but in different colors (blocks, dot stickers, ribbons) they will be able to focus their attention to the color.
READ ABOUT COLORS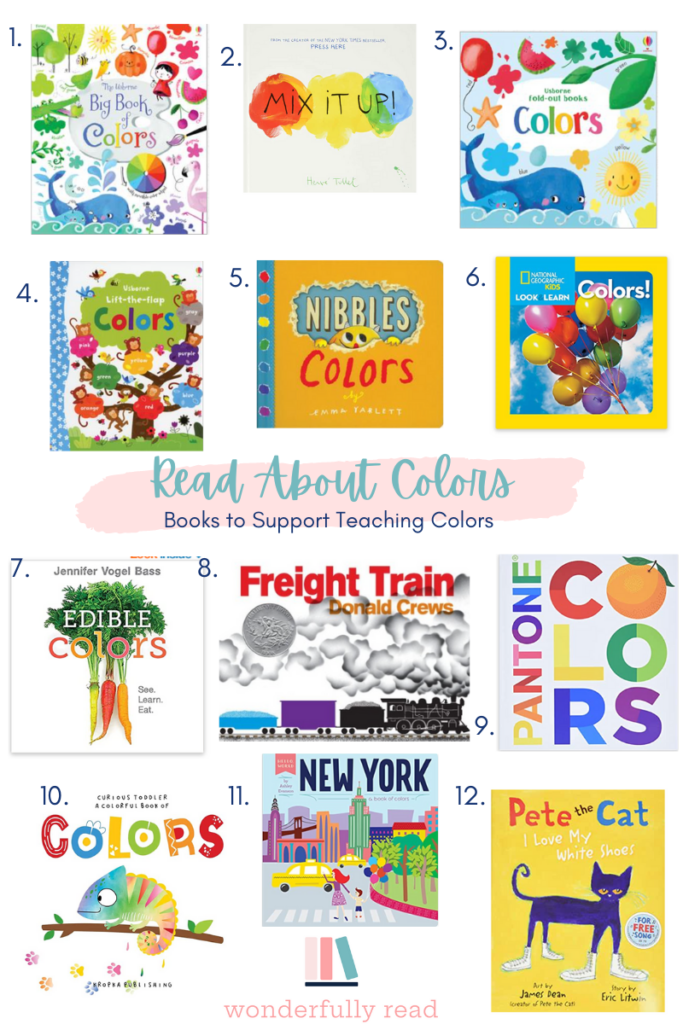 1. My Big Book of Colors // 2. Mix It Up // 3. Fold Out Books Colors
4. Lift the Flap Colors // 5. Nibbles Colors // 6. National Geographic Look & Learn Colors
7. Edible Colors // 8. Freight Train // 9. Pantone Colors
10. Colors // 11. New York // 12. Pete the Cat I Love My White Shoes
PLAY WITH COLORS
Here are some of our favorite things to play when teaching colors.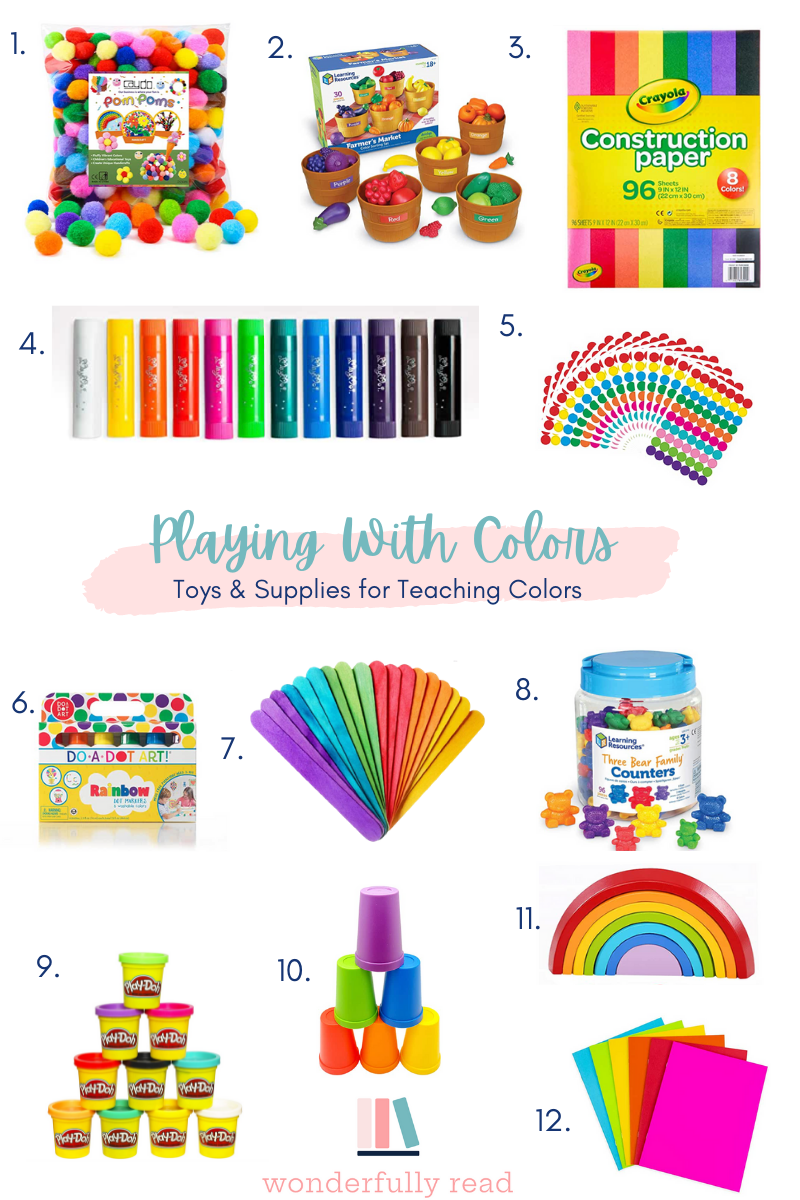 1. POM POMS // 2. LEARNING RESOURCES FOOD // 3.CONSTRUCTION PAPER
4. PAINT STICKS // 5. DOT STICKERS // 6. DOT MARKERS
7. COLORED POPSICLE STICKS // 8. COUNTING BEARS // 9. PLAY-DOH
10. COLORED CUPS // 11. RAINBOW TOY // 12. BLANK BOOKS
5 EASY & FUN ACTIVITIES FOR TEACHING COLORS
SORTS – Children can sort items based on colors. I love using familiar items and items that are the same but different colors. Example: sorting different colored counting bears. 
PAINTING – Use paint can be so much fun! Have children paint different colored circles, dots, or rainbows to help learn colors.
SCAVENGER HUNT – Choose a color and have your child find things around the house that are the same color.
LACING BEADS – We LOVE using these Melissa & Doug Lacing Beads or you can use Fruit Loops and string to lace different colors!
COLOR MATCHING STICKY WALL – Sticky Walls are TOO much fun! Grab some contact paper, construction paper and anything that kids can match to the sticky wall to practice matching colors.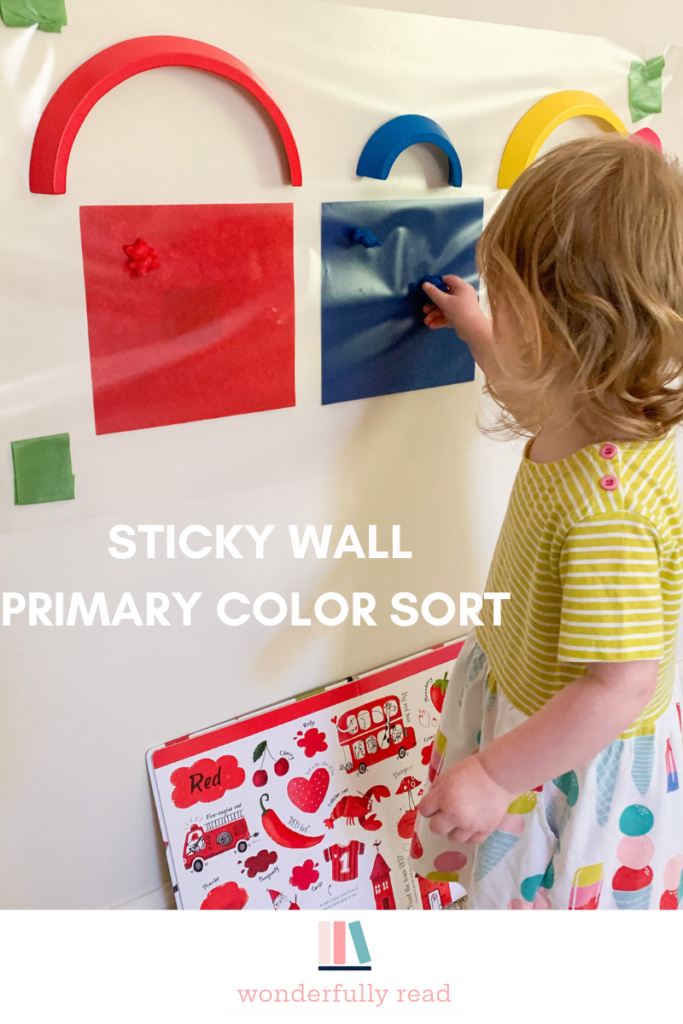 5 TIPS FOR TALKING ABOUT COLORS
Say the noun first – "The sticker is RED." I have to admit this took some time to get used to but now we've got the hang of it!
Emphasize the color word and make it fun to repeat!
Talk about colors in your everyday life – when folding clothes, eating meals, playing outside, etc. "Can you hand me the sock that is pink?" Or "Look how pretty that grass is! The grass is GREEN!"
Play "I Spy" when you're on a walk or in the car. "I spy something that is fluffy and white!"
Say "I see ____" sentences. Your toddler will start to repeat and learn the colors. "I see the fish is ORANGE!"
Pin for Later!