"Rhymers will be readers: it's that simple. – Mem Fox, Author of The Magic Hat
Phonological awareness is one of the most important predictors of a children's reading success as they learn to read and become avid readers. A big piece of the phonological awareness umbrella is RHYMING. Who knew doing the "Hokey Pokey" was setting a strong foundation for your (or your child's) reading life!
In this post you will find:
the three stages of learning to rhyme
links to resources to for activities to play to help with rhyming skills
a video of one of the games in action
book suggestions to read with your child that are fun and full of rhymes
Three Stages of Rhyming


Rhyming Activities
Rhyme Pocket Pairs– Florida Center of Reading Research
Rhyme Memory Match– Florida Center of Reading Research
Rhyme House – Florida Center of Reading Research
Duplo Rhyming Bricks – The Reading Mama
Rhyme Time Activity Pack – The Reading Mama
Rhyming Activity Video
Watch the video to see how I model what a rhyming word is and coach Coleman as he works on a picture match with rhyming words.
FULL DISCLOSURE: In this video, Coleman (4.5) has never done an activity like this with me at home. This was our first time with it and I think it's very important to see the unedited version (aka not perfection) so that you're expectations as a parent can be realistic. 🙂 Since it was the first take, I didn't realize I cut myself out of the video! Let's just say I'm a reading person and not a videographer…:)
Activity Printable can be found at the Florida Center for Reading Research here.
RHYMING BOOK SUGGESTIONS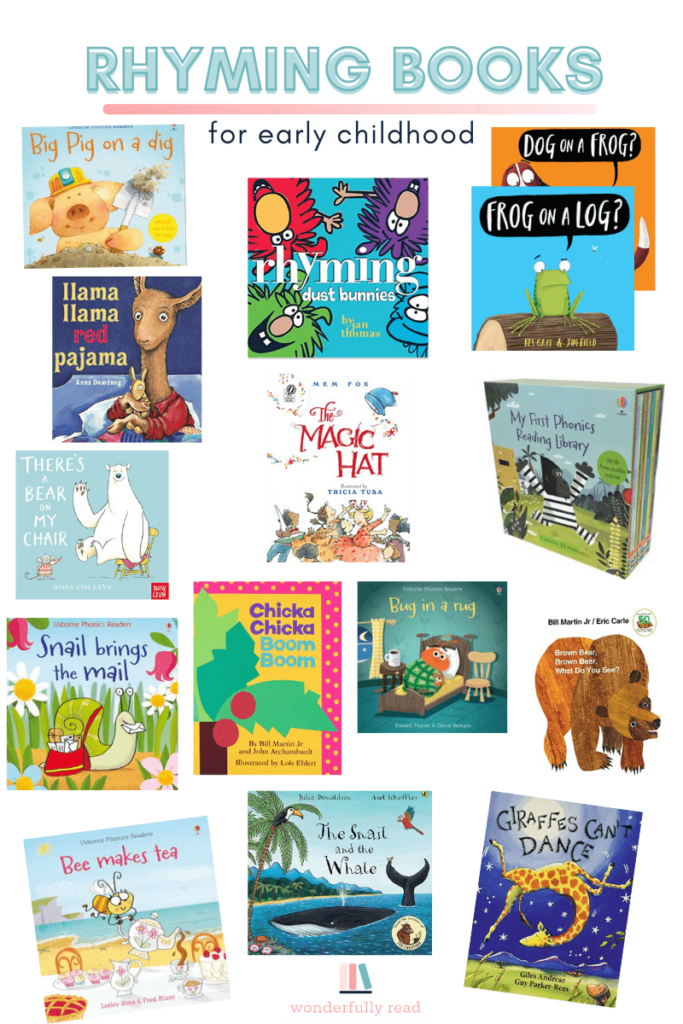 BIG PIG ON A DIG – The story of Big Pig's hunt for treasure is very amusing and takes into account recent research on the most effective ways to teach reading.
PHONICS READERS BOX SET – These phonics based set is a great for a beginning reader!
RHYMING DUST BUNNIES – A hilarious book that your children will BEG you to read over and over again! It's perfect to help your child understand what a rhyming word is (or is not)!
LLAMA LLAM RED PAJAMA – A classic! Who doesn't love Llama Llama! The entire series is so great for children to read about his adventures.
THE MAGIC HAT – What's more magical than a magical hat appearing from the sky and transforming everyone into whimsical animals! Another Mom Fox favorite!
FROG ON A LOG – The frog does not want to sit on a log and is trying to find a new place to sit. As he tries to find a new place to sit, he asks the the cat lots of questions until he finds out what dogs sit on!
DOG ON A FROG?– A fun sequel to Frog On A Log? that will keep children entertained and develop reading skills! Win-win!
BUG IN A RUG – A fun story with adorable illustrations that helps teach your child to read while laughing at the hilarious bug in a rug!
THERE'S A BEAR IN MY CHAIR – Poor Mouse! A bear has settled in his favorite chair, and that chair just isn't big enough for two. Mouse tries all kinds of tactics to move pesky Bear, but nothing works.
SNAIL BRINGS THE MAIL – A hilarious tale about snail who always brings the mail…but can he do it on time?!?
CHICKA CHICKA BOOM BOOM – A CLASSIC! Chicka Chicka Boom Boom, will there be enough room for all the letters in the coconut tree?!
BROWN BEAR, BROWN BEAR, WHAT DO YOU SEE? – Another classic rhyming book about our favorite animals! All of the Eric Carle books are fantastic!
BEE MAKES TEA – The bee is working SO hard to prepare her party…will she get everything ready to enjoy the tea with her friends?
THE SNAIL AND THE WHALE – When a tiny snail meets a humpback whale, the two travel together to far-off lands. It's a dream come true for the snail, who has never left home before. But when the whale swims too close to shore, will the snail be able to save her new friend?
GIRAFFE'S CAN'T DANCE – Gerald the Giraffe only wants to dance