"Then he lay down close by and whispered with a smile, "I love you right up to the moon – and back." – Guess How Much I Love You by Sam McBranty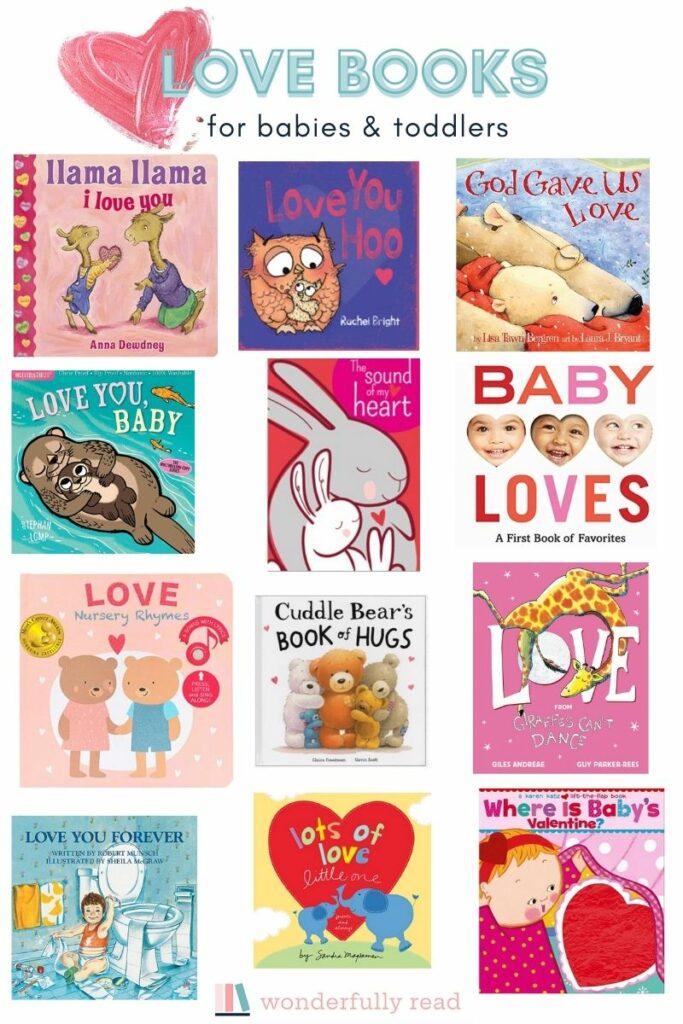 LLAMA LLAMA I LOVE YOU – This adorable rhyming book all about how Llama Llama celebrates Valentine's Day.
LOVE YOU HOO – In this sweet story children learn that they are, and always will be, loved!
GOD GAVE US LOVE – Grandpa Bear explains God's love to Little Bear on their fishing trip to explain why it is important to love others, "Any time we show love, Little Cub, we're sharing a bit of his love."
LOVE YOU, BABY – A indestructible book perfect for babies and toddlers all about how babies can show love!
THE SOUND OF MY HEART – The sweetest story of a mama's love when comforting her scared baby during a thunder storm!
BABY LOVES – One of our absolute favorite books that show real photographs about the things baby loves!
LOVE NURSERY RHYMES – This press and listen book sings nursery rhymes about love to your child!
CUDDLE BEAR'S BOOK OF HUGS – Sweet Cuddle Bear teaches the little teddy bears how to hug and cheer up all the children.
LOVE FROM GIRAFFES CAN'T DANCE – this fun and lyrical book will help you to celebrate love, music and dance all year long!
LOVE YOU FOREVER – This is a classic and I don't think I've read it without crying since becoming a mom!
LOTS OF LOVE LITTLE ONE – A sweet book all about love with fun illustrations and can be so interactive when reading it to a baby or toddler.
WHERE IS BABY'S VALENTINE? – We love these sturdy, open the flap books! Perfect to keep busy babies and toddlers engaged!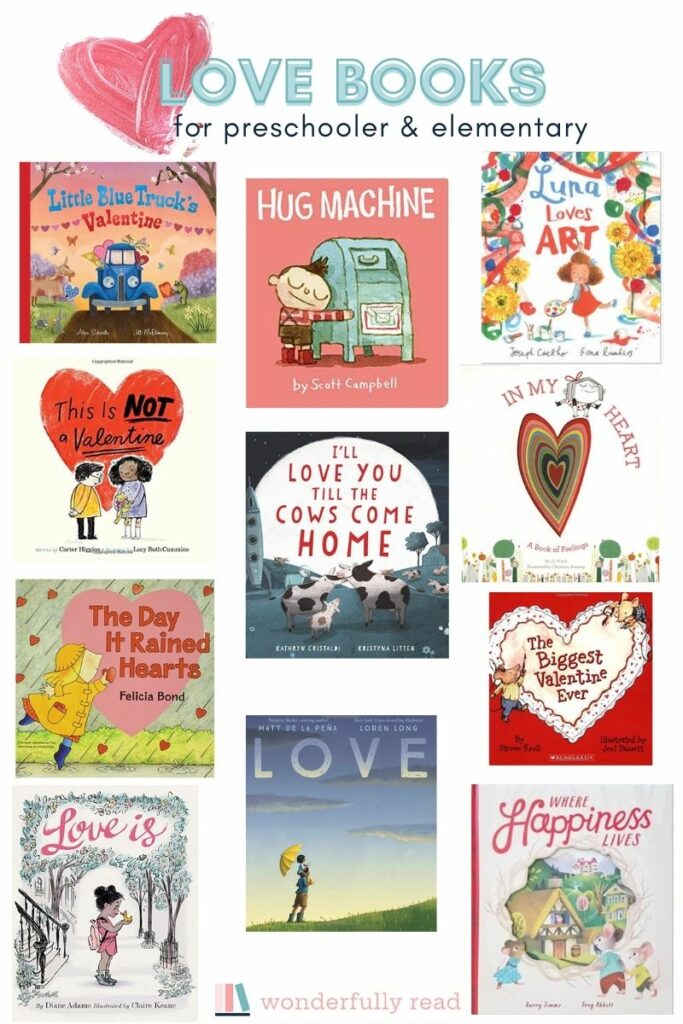 LITTLE BLUE TRUCK'S VALENTINE – The classic Little Blue Truck is on a mission to deliver Valentine's to all the animals on the farm!
HUG MACHINE – The Hug Machine is the most precious little boy who gives THE BEST hugs to everyone! Read about how he keeps love going by giving out all the hugs!
LUNA LOVES ART – Luna and her mom go to the art gallery to celebrate great art and new friendships, and learn that not all families are the same.
THIS IS NOT A VALENTINE – A book that will celebrate every relationship throughout the year – not just on one special day with glittery hearts!
I'LL LOVE YOU TILL THE COWS COME HOME – This hilarious book is filled with warm, funny art and rhythmic text that is perfect for snuggling up to read and remind them you'll love them until the cows come home!
IN MY HEART – This is one of the best books we've ever read to describe the different feelings that we have. It's whimsical illustrations are beautiful and the lyrical text makes it a perfect read for preschoolers and elementary kiddos!
THE DAY IT RAINED HEARTS – A fun book to pair with Valentine's Day crafts is about creating Valentine's with the hearts that rained from the sky!
THE BIGGEST VALENTINE EVER – Two friends decide to make their teacher a Valentine together. They learn how to work together to make the biggest and BEST Valentine ever!
LOVE IS – This beautifully illustrated book tells the heartwarming story of a little girl and a duckling, who both grow to understand what it means to care for each other as they learn that love is as much about letting go as it is about holding on
LOVE – A moving, and diverse poetic books about how love can get you through difficult times.
WHERE HAPPINESS LIVES – A beautiful story about how happiness lives within each one of us!
*As an Amazon Affiliate, I may earn from qualifying purchases.