"One of the greatest gifts adults can give—to their offspring and to their society—is to read to children." – Carl Sagan
WHY A BOOK DRIVE?
Since the announcement of school closures in South Carolina yesterday I can't stop thinking about children who will be experiencing hardships from now until August. Too many children in our world do not have access to text and the closure of the libraries just made that gap even larger. I've been trying to think of a way that we can contribute to the children who are losing out on months of exciting stories, relatable characters and learning new information. My biggest priority as a teacher and as a mom was to inspire a love of reading in my kids. The ONLY way I know how to do that is to provide books to children and families that are in need.
My brother sent me an Instagram story from PGA Golfer, and SC resident, Kevin Kisner about the work is foundation is doing to get books to children during this pandemic. When I read about that I was inspired to do something at our local level to help children of all ages gain access to books during this crisis. Honestly, I would love to continue doing this even when we are on the other side of the Coronavirus because pandemic or not, children still need to access to books. After talking through logistics with my best friend, Lindsay, we devised a plan to support our local children! Here is how you can help!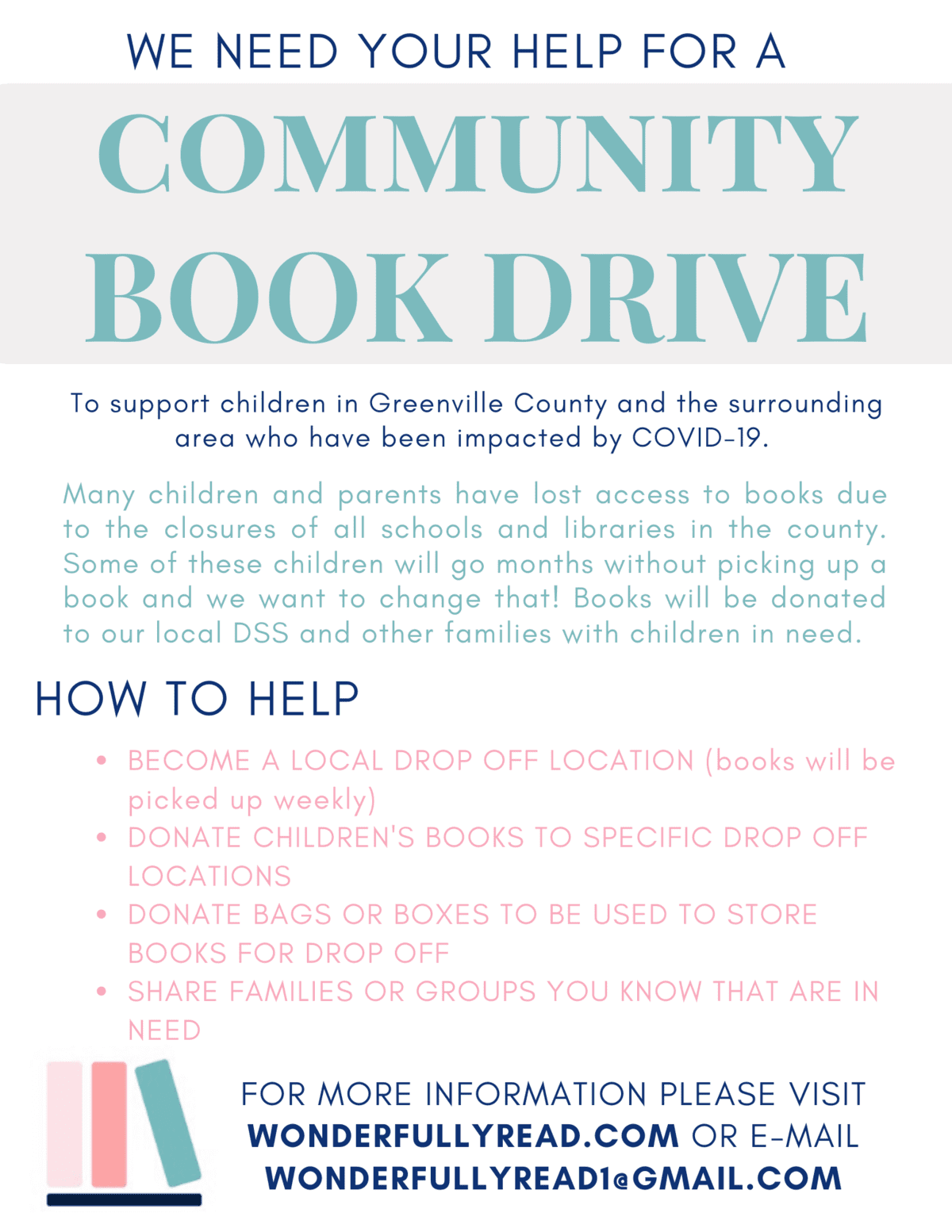 HOW TO HELP
LOCAL RESIDENTS
DONATE BOOKS – donate new or gently used children's books to a designated drop off location nearest you
BECOME A LOCAL DROP OFF LOCATION – a box and sign will be provided to you and books will be picked up weekly
DONATE SUPPLIES – bags, boxes, or other supplies to help organize and transport books
IDENTIFY Families, organizations or specific children in need by e-mailing wonderfullyread1@gmail.com
SHARE/FOLLOW social media to spread the word using the hashtag #wonderfullyreadbookdrive
NOT A LOCAL RESIDENT?
Not local but still want to help? E-mail me at wonderfullyread1@gmail.com and we can get creative!
Work together to start a book drive in your community
Donate books through Amazon or other stores
Donate gift cards for books to purchase
Spread the word through social media
ITEMS TO DONATE
We will accept any new or gently used books that are appropriate for babies through high school seniors.
Board Books 
Easy Readers 
Picture Books 
Chapter Books
Young Adult Books
Literacy Tools – flashcards, magnetic letters, paper, pencils, etc! 
Large Gallon or Jumbo Ziplocs for book storage 
CONTACT INFORMATION
If you would like to help in anyway or have any questions, please e-mail me (Sarah) at wonderfullyread1@gmail.com. I am SO excited to get started and get books to our children!