"Reading should not be presented to children as a chore, a duty. It should be offered as a gift." –Kate DiCamillo
Each week I (try) to switch out the books in our book baskets. If there is a holiday or season, I'll add books around that but for right now the main focus is engaging them with books that will foster their love of reading. Each week, I'll share what Coleman & Caroline are reading in our book baskets.
Since I became more intentional about having book baskets around the house, I have seen a huge increase in the frequency that Coleman asks to read a book. The key is that it is HIS choice to read, not something that mom and dad told him he has to do. Choice is HUGE for my first born, strong-willed child.
Book Basket Tips
Here are some tips that you can do to implement book baskets in your home today!
Make them accessible! Our baskets are all on the floor and within reach for both kids to easily grab. We also have books on the bottom shelves of their bookcases in their rooms.
Switch out the books every week or every other week. This will expose them to different genres, authors, stories, characters and more!
Variety! I like to include a variety of board books, hardcover, paperback, nonfiction, fiction, etc. so that they are exposed to different types of books. This also helps when talking about taking care of books (i.e. not ripping pages, coloring in books, etc).
Library, Thrift Stores, Amazon – Books can get expensive, especially if you are switching them frequently. My favorite and most cost efficient is heading the library and picking out books that we may not own. We also swing by our local book Thrift Store occasionally and I watch for deals on Amazon!
Keep the faves in rotation! If there is a book that your child loves, when you switch your book baskets, keep their favorite book in there! If it is a book I know Coleman and Caroline will want to read over and over, I usually keep those in their bedrooms on their bookshelves for bedtime stories.
These are the books that are in our living room book basket this week: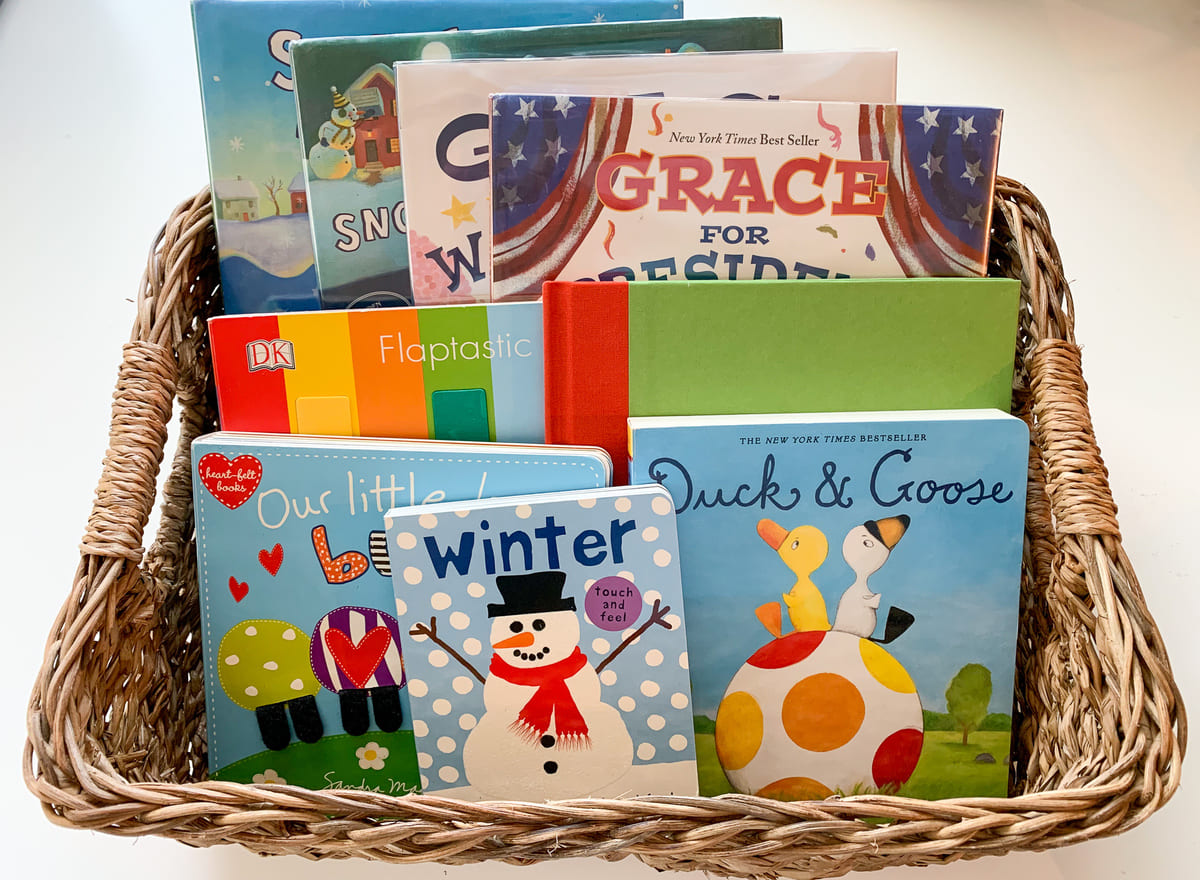 As an Amazon Associate participant, I earn from qualifying purchases.