"Just one more…chapter."
One of the most important things that you can do to help your children become life-long readers is to model that love of reading. Whether it's a suspenseful crime novel (my personal fave), a heartwarming romance story (all my Nicholas Sparks fans), or a motivational book (insert Rachel Hollis here), your children should see you reading! As a child, I remember my mom always reading a popular novel and my dad reading a nonfiction book that usually centered around politics and business. I think this fueled my love of reading by seeing how important it is to read. My parents modeled how reading can be something that is fun and entertaining as well as a vessel to learn and grow your knowledge and understanding of the world.
I am so lucky to have such a fun, supportive and talented group of girlfriends who are also avid readers. We get together often for girls nights to catch up on life, have a few beverages, and just relax with great company. Every Christmas, we gather to do our annual White Elephant Gift Exchange. We all had so much fun and bring such great items that I would not have thought to buy! It got us all thinking about how we could use that same "White Elephant" format into a Book Exchange. I'm always looking for new books to read but always gravitate toward the same crime dramas or the lastest Emily Giffin novel. So insert the idea of a Book Exchange Brunch!
I quickly recruited my mom, the best hostess I know and my friend Kelsey, our grazing board expert to help! Once we settled on a date that most of us could attend, I sent out the official invite and started to plan the book exchange details, the menu and decor!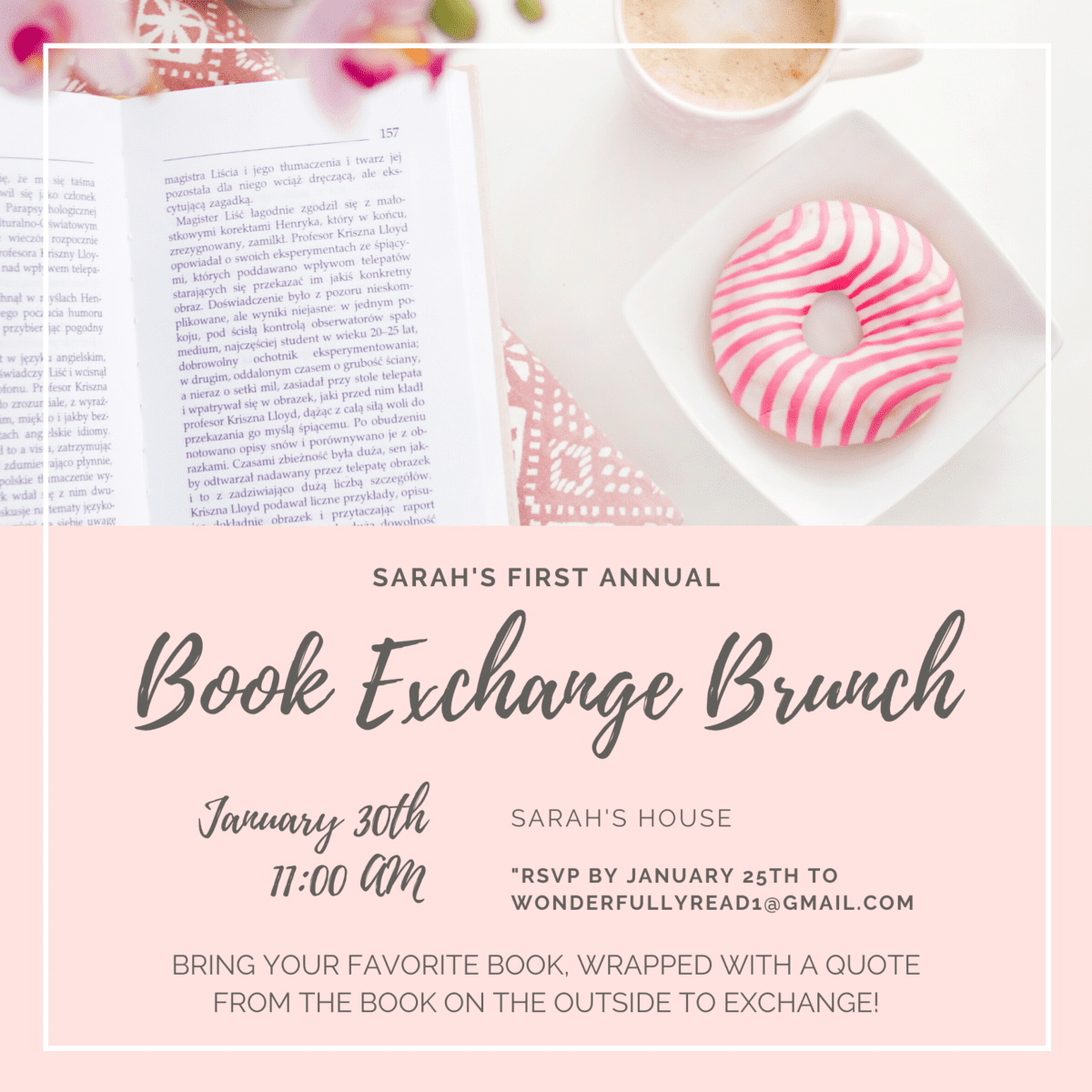 The Menu
For brunch, Kelsey and I put together a bagel grazing board with different cream cheeses and bagel toppings, fruit, and a sausage and egg casserole. We also added some egg salad, a baked brie and some Trader Joe's chocolate heart cookies for dessert! For the beverages, we set up a little Bloody Mary & Mimosa bar with different juices, fruit and champagne for everyone to enjoy!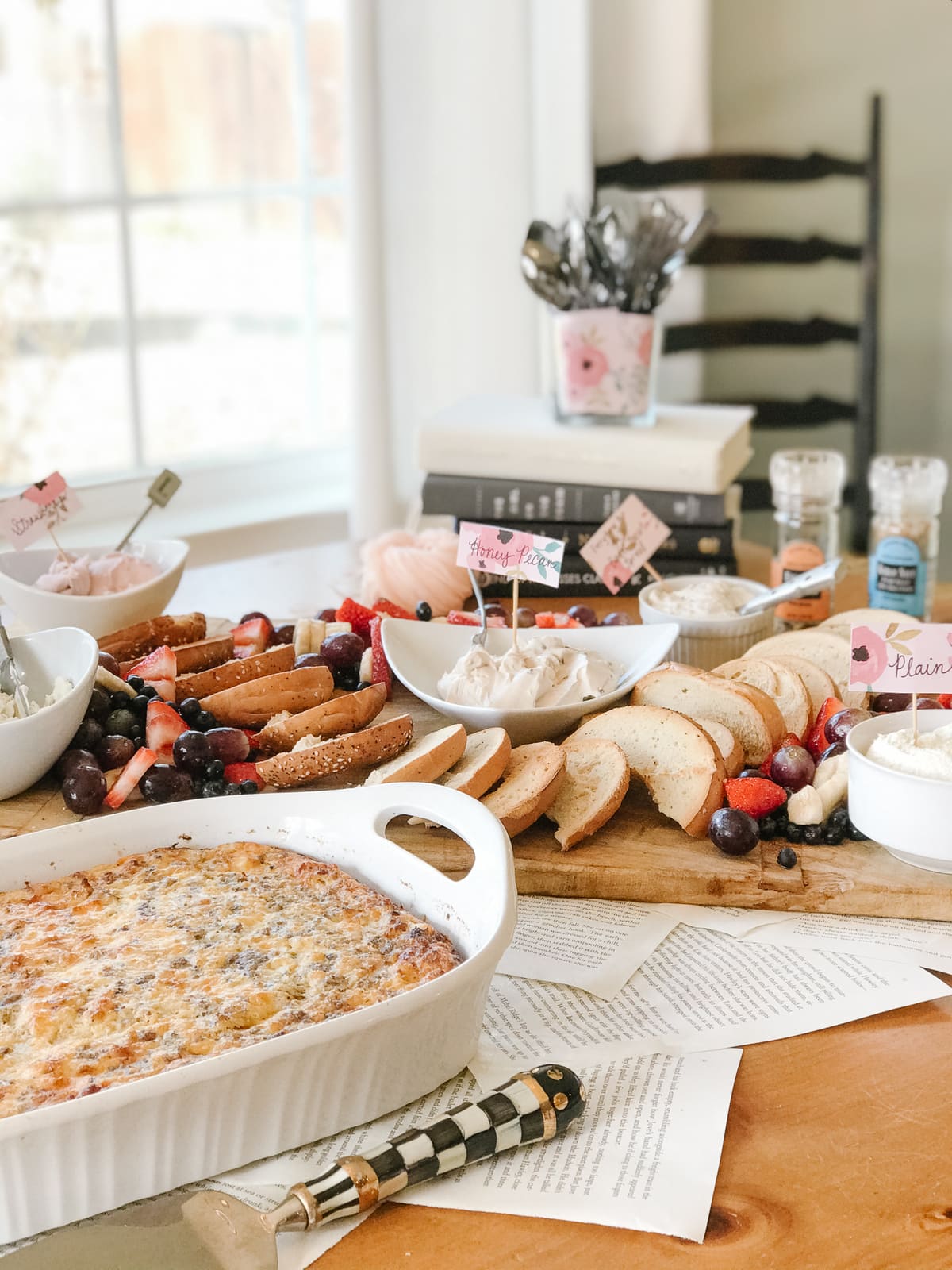 The Decor
My favorite part about hosting a party is putting together a few little decor items. I like to keep things simple, quick and fairly inexpensive. I used the books I owned to make different levels for the food table, some fresh blooms from Trader Joes, blush pink paper products along with pages from a book that I grabbed at the Dollar Tree as well as some tassel bookmarks I made for the party favor. We added a letter board with the quote, "Just one more…chapter" to complete the look! My favorite decor piece from our book brunch was the book pages table runner!
Table Runner
I ripped out pages from a book, laid three pages out at a time and used Mod Podge to adhere the pages together. The best part about the table runner was it was so cheap that I was able to throw it away after the party for easy clean up.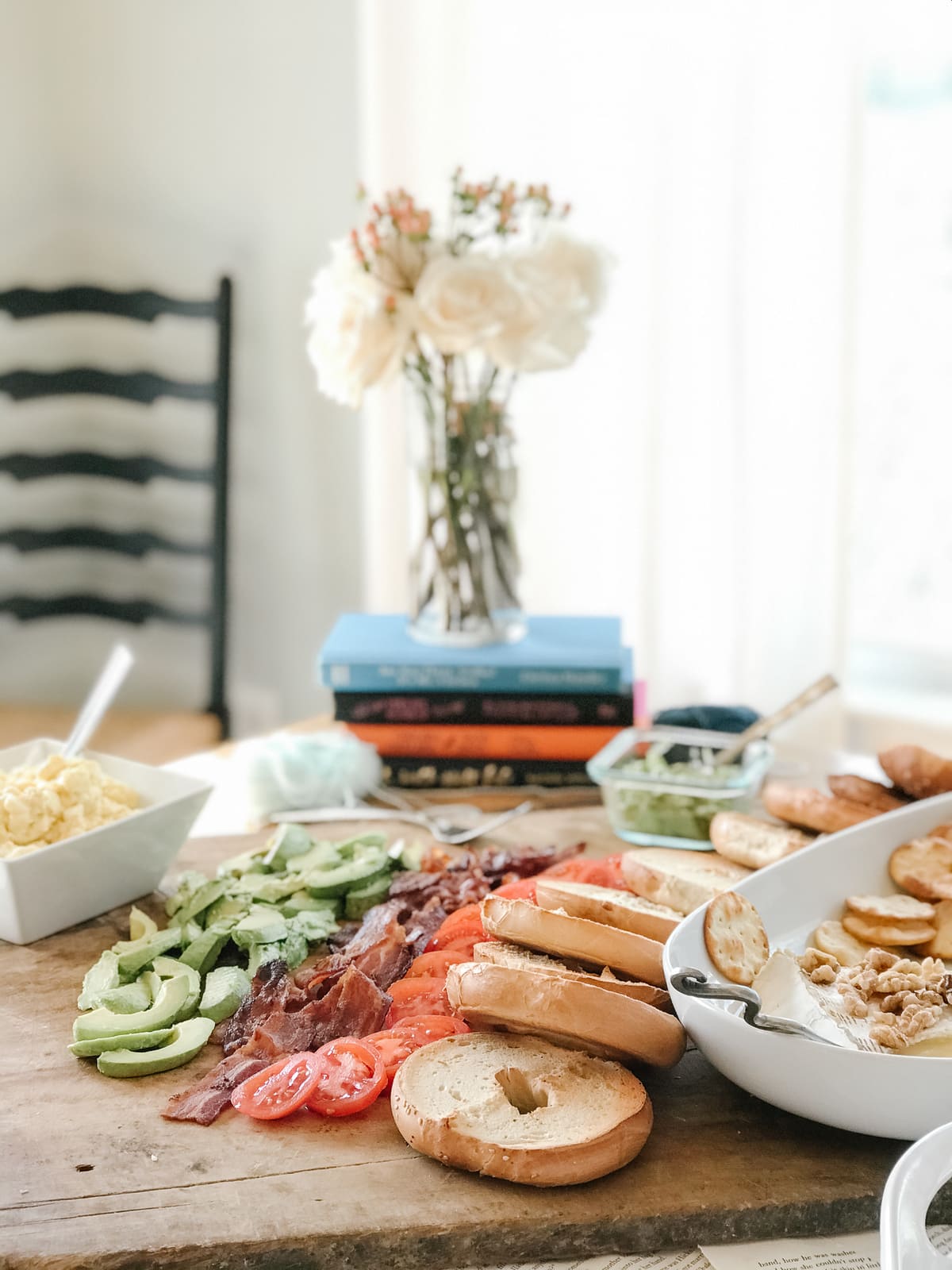 Bookmarks
I used this great tutorial from the Pottery Barn Blog to help get me started. I grabbed some yarn, scrapbook paper and ModPodge from Hobby Lobby and started to create! These were so fun, and easy to make! The hardest part was deciding which color yarn to use with the different paper!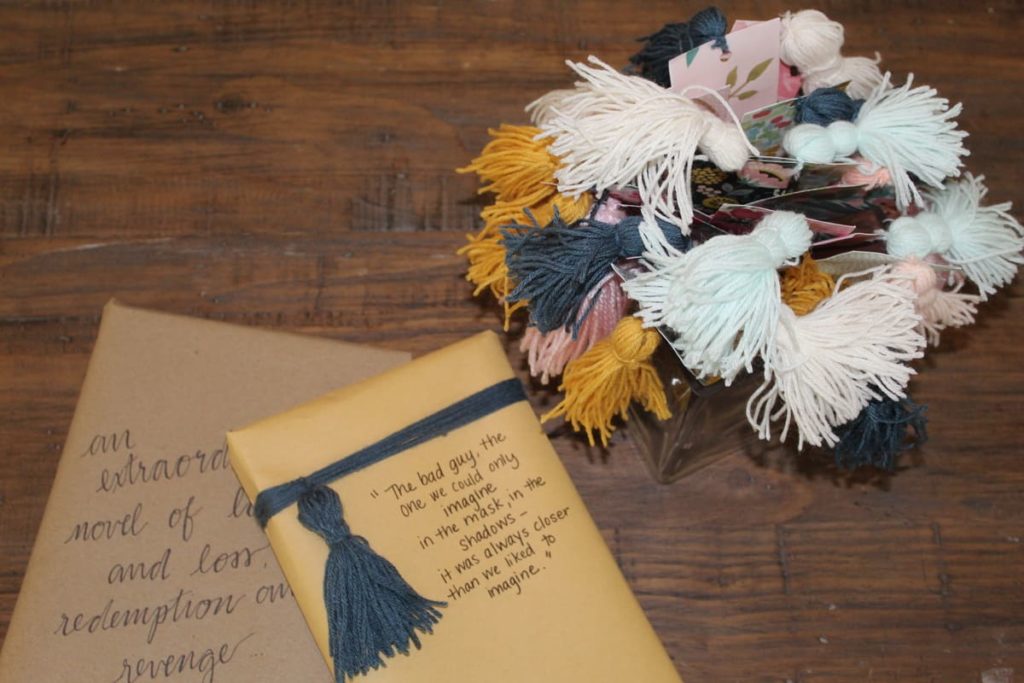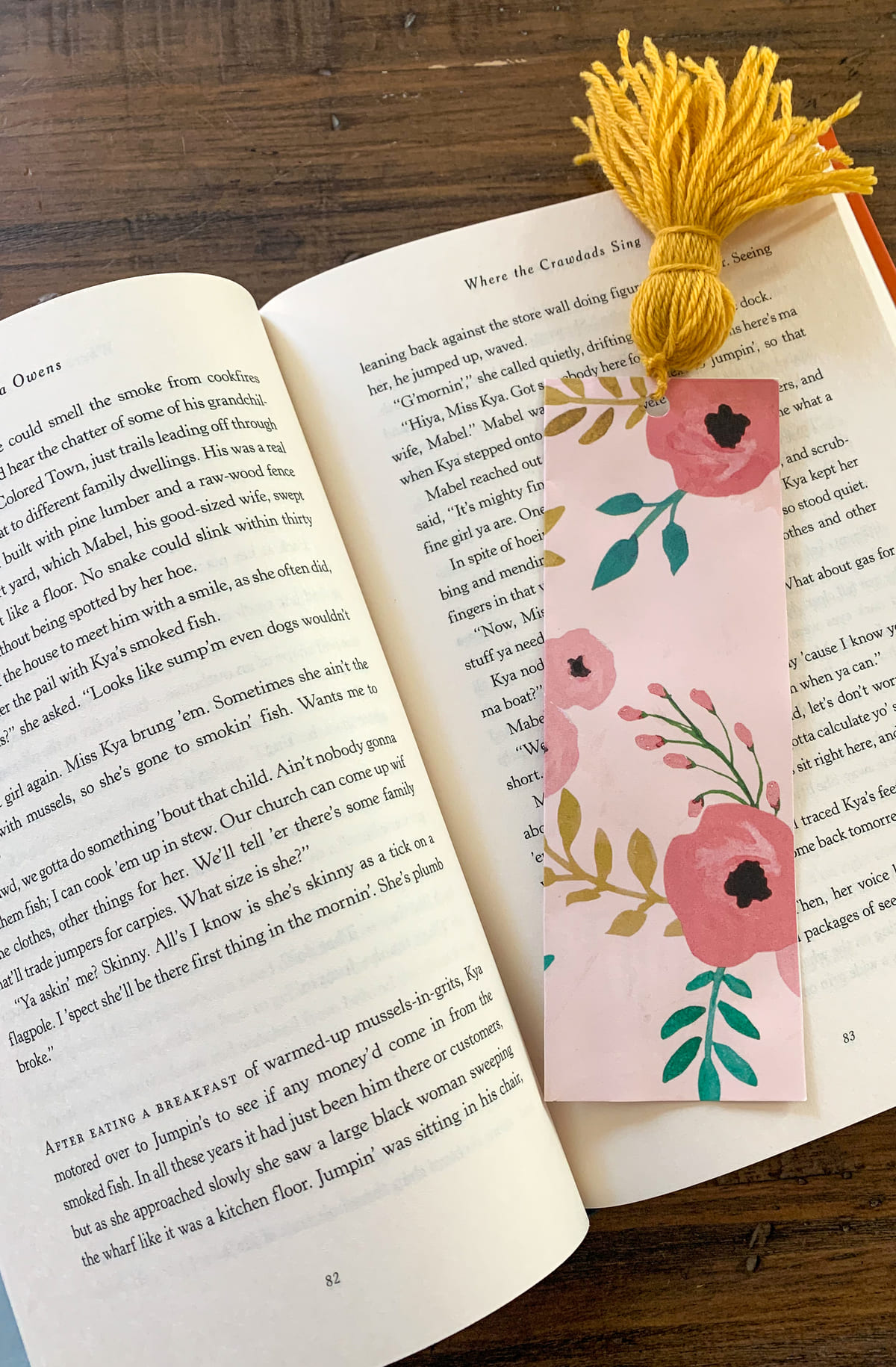 The Book Exchange
The plan was for everyone to bring one of their favorite books (new or used) to exchange at the brunch. We decided to wrap the gifts in brown kraft paper and write a quote from or about the book to make it a little more enticing!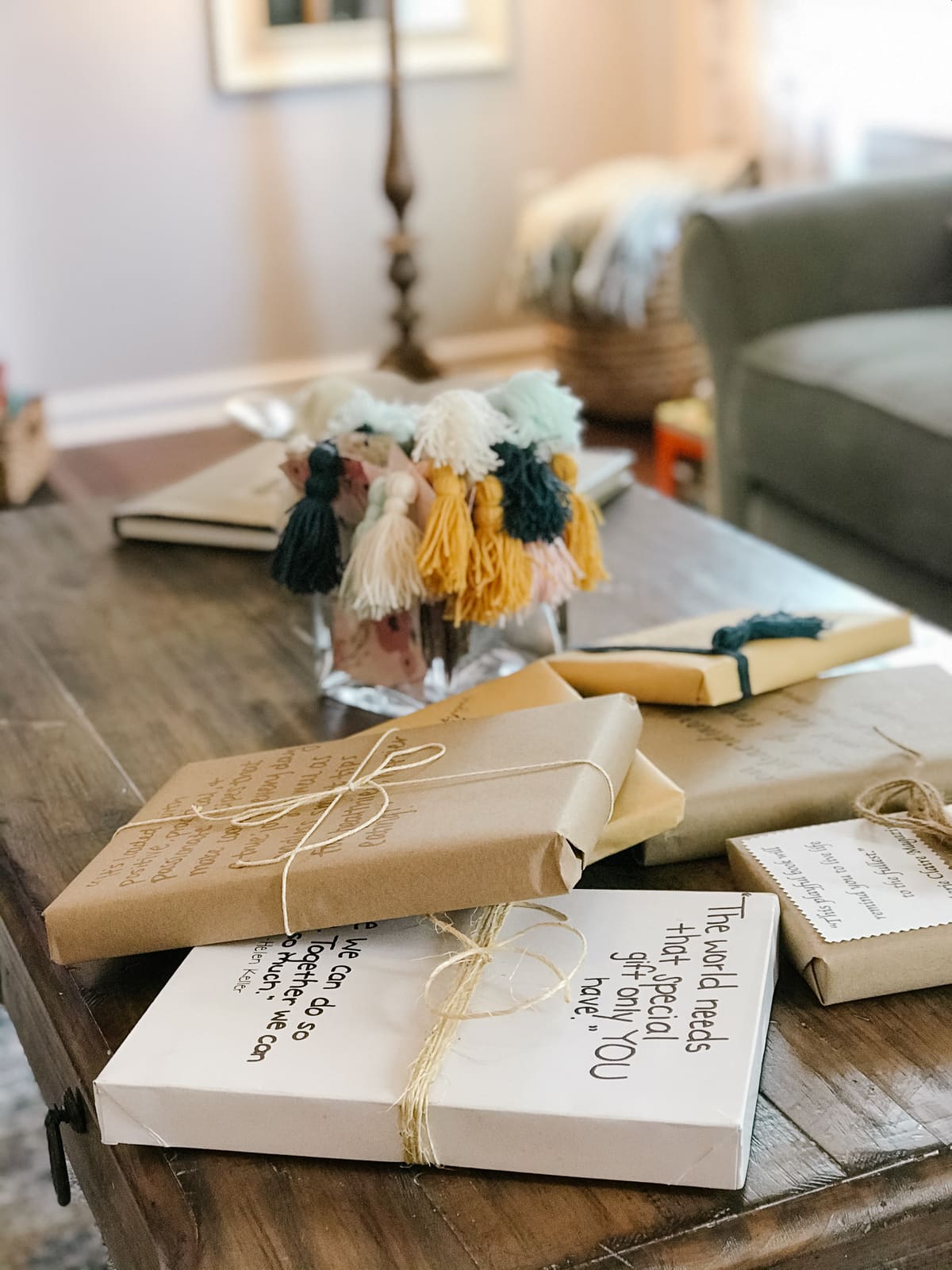 After everyone arrived, we had a great time catching up, grazing the food table and mixing our favorite brunch cocktails. We drew numbers and set the rules for the exchange. The person who drew the number one could go back at the very end and steal ANY book, a book could only be "stolen" twice (except for the person who drew the number one – anything was fair game), and you could either steal a book that was previously unwrapped or choose a new one. We also decided that if you ended up with a book that you had previously read, you could steal another book at the very end. Luckily everyone has such different tastes in books we didn't have any duplicates or books that were previously read! Here is the list of all the books that were exchanged! Any book was welcomed – even cookbooks!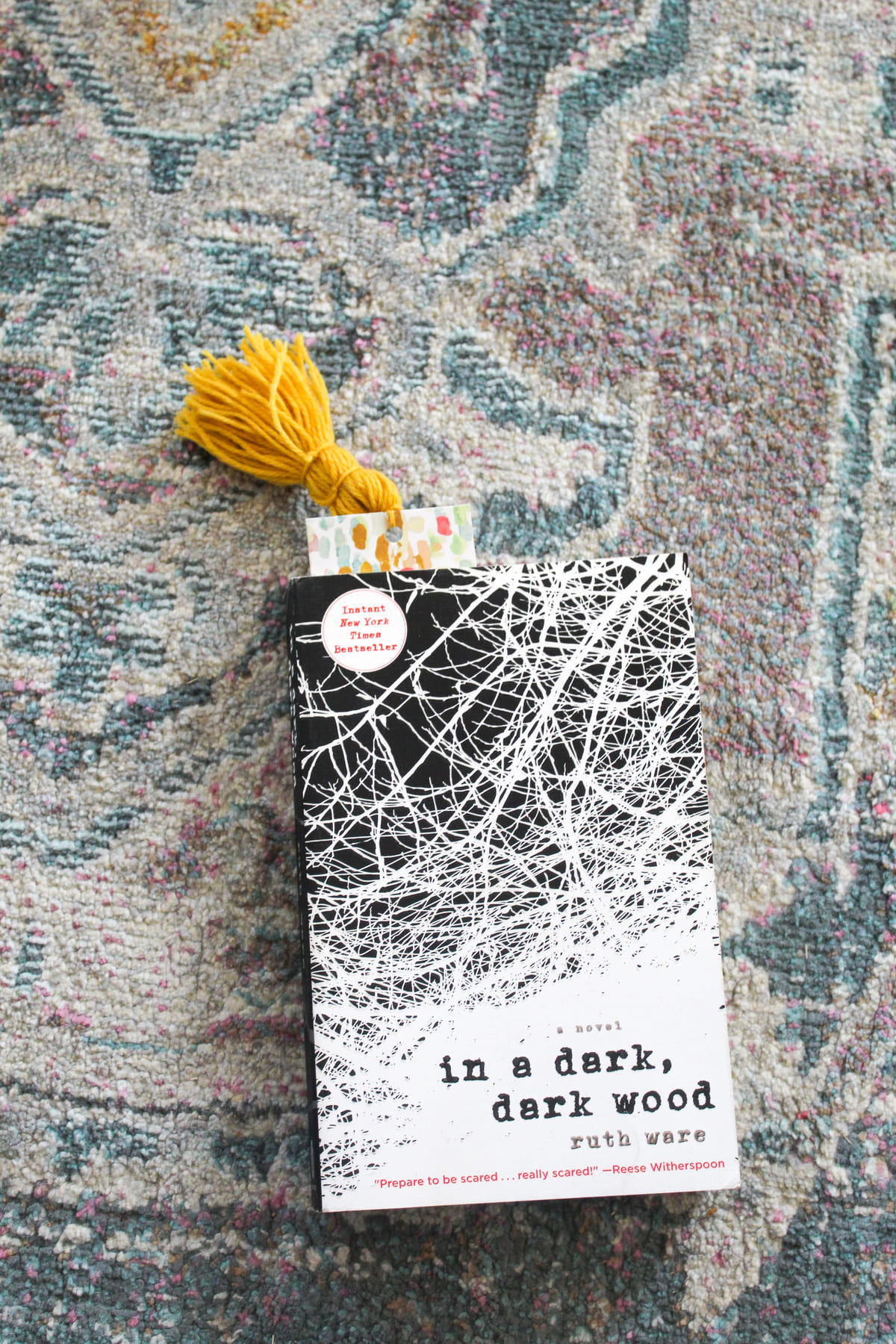 We had such a great time, exchanged some binge worthy books, and decided this would be something we should do every few months! Another highlight for me was the fact that my little guy was home and was able to see his mom, his "Annie" and all favorite "aunts" talking about and getting excited about reading! I'm really looking forward to getting Coleman's friends together to do a children's book exchange soon!
Want to save for later? Pin this!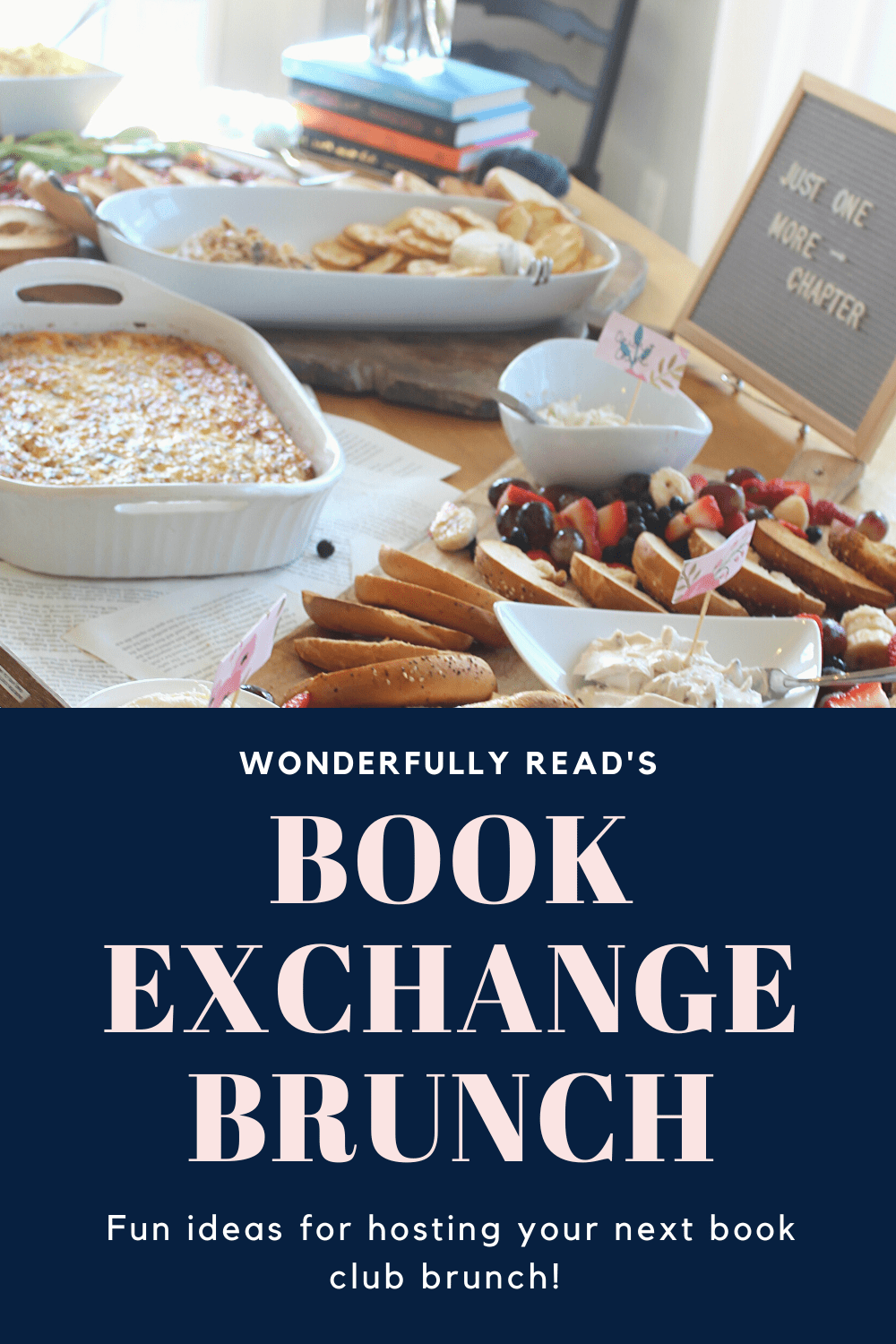 This post contains Amazon affiliate links and I may earn from qualifying purchases.